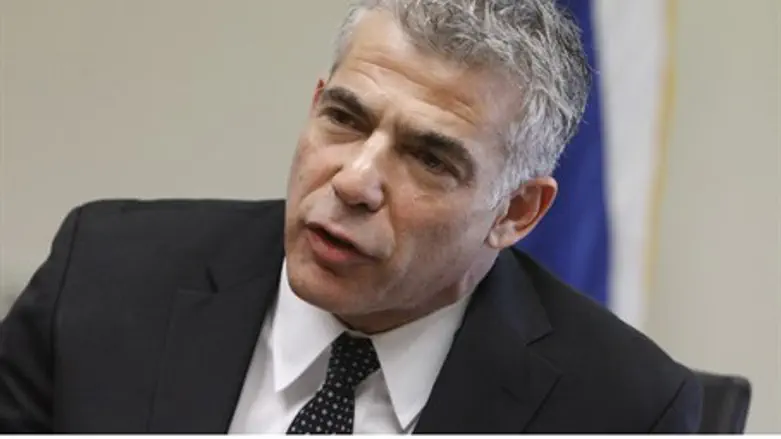 Finance Minister Yair Lapid
Flash 90
Finance Minister Yair Lapid, head of the Yesh Atid party, leveled harsh criticism at Magen David Adom (MDA) on Wednesday evening, after an MK from his party was prevented from donating blood because she was born in Ethiopia.
Lapid went as far as to threaten Magen David Adom for refusing to let MK Pnina Tamano-Shata participate in an blood drive at the Knesset.
"Pnina Tamano-Shata is upset. So am I. We've been talking about it all day, trying to figure out together how it can happen in Israel of 2013, that a Magen David Adom volunteer tells her that her blood will not be taken because she's from Ethiopia," Lapid wrote on his Facebook page.
He noted that Tamano-Shata had just returned from South Africa "where she represented Israel at the memorial for Nelson Mandela, the man who taught the world that one cannot remain silent in the face of racism. So we will not be silent."
"Whoever needs to be fired over this, will be fired," declared Lapid, adding, "We will change whatever procedures that need to be changed."
The Finance Minister chose to end his remarks by issuing what appeared to be a threat, saying, "The Knesset has only two Ethiopian MKs. Both are from Yesh Atid. We are proud of them, we love them, we believe in them. Anyone who harasses them will have to deal with all of us."
Wednesday's incident took place when MK Tamano-Shata approached the MDA's mobile unit, which came to the Knesset on a blood drive, and asked to donate blood.
She was allegedly told that she cannot donate blood because Health Ministry guidelines specify that blood should not be taken from people who were born in countries with a high incidence of HIV, or who spent more than one year in those countries. An MDA representative told her that donors from Britain and Ireland are also turned away, as are homosexuals.
Tamano-Shata told the MDA team that she has been in Israel since age 3 and served in the army. The MDA representative reportedly told her that if she insists that she wants to donate blood, it will be taken, but the blood might not be used. Tamano-Shata told the MDA representative that this was insulting.
The policy regarding blood donations by Ethiopian Jews was set many years ago, when it was determined that the immigrants have an especially high rate of HIV infection, compared to other Israelis. It is intended to protect blood donation recipients from infection with the dreaded disease.
MDA spokesman Zaki Heller said following the incident that MK Tamano-Shata is a member of a committee that is currently discussing changing the criteria for blood donations, and therefore had to have known that she would be refused.
The incident quickly reached the media, with Knesset Speaker MK Yuli Edelstein telling the MDA team to leave.
"I thought this was behind us, but it turns out today that I was wrong," he said. "This is an unacceptable phenomenon."
President Shimon Peres denounced the incident and Prime Minister Binyamin Netanyahu called MK Tamano-Shata and said that he had instructed Health Minister Yael German to take care of the matter.