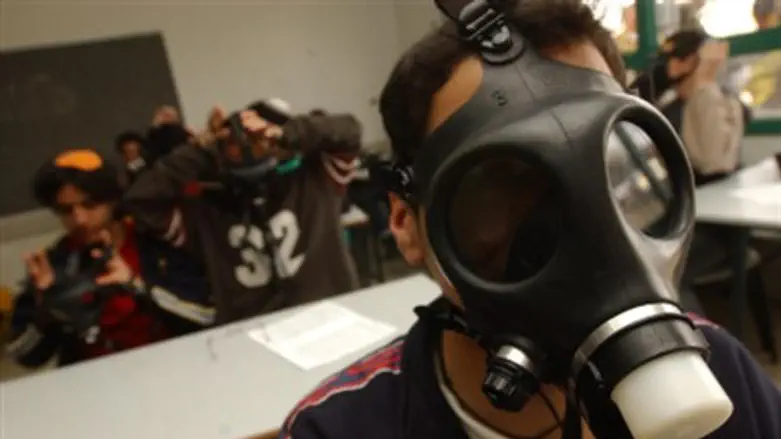 Gas masks in Israeli school drill (file)
Israel news photo: Flash 90
The IDF is currently close to stopping gas mask production and distribution, according to one senior official, due to developments indicating a lowered threat to Israel of spillover from the Syrian Civil War. 
A senior official from the Home Front Command stated Sunday that in light of new realities in the region - including the Syrian agreement with the Organization for the Prohibition of Chemical Weapons (OPCW) to destroy chemical weapons by the end of next month - the IDF will reconsider whether or not to continue production of the masks in six months. 
The unnamed official also raised doubts about the true role of the Home Front Command in general, stating that it was superfluous. "If the Defense Ministry is responsible for dealing with rocket attacks, and afterwards with operations on the ground, then what do we need a Home Front Command for?"
The officer also revealed that over 147 sirens nationwide operate at peak efficiency, saving millions of shekel compared to the system used during the Gulf War. "We have gotten to a place where we have saved millions of shekel," he reflected, "and can [still] ensure normal life in most areas of the country." 
The statements confirm rumors last month that the state would be halting its gas mask distribution program, which experienced a surge earlier this year after reports surfaced of Syrian chemical weapons use and in light of the US considering a strike on the region.
The rush prompted long lines and a price rise for the masks on eBay for non-citizens; but as the threats have waned, so has the demand.