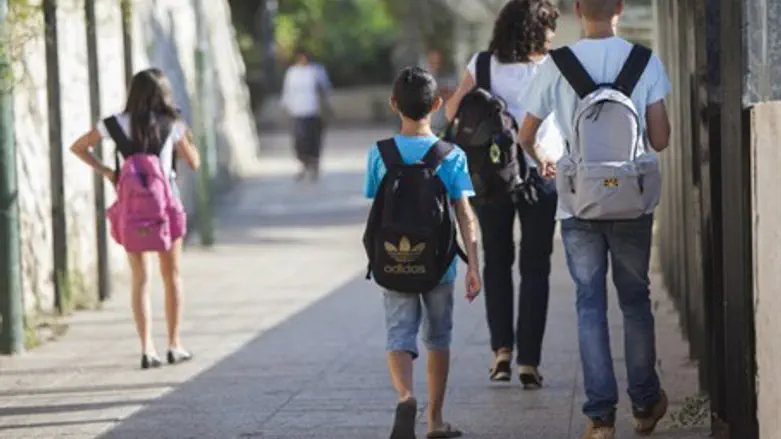 Israeli children (illustrative)
Flash90
Justice Minister Tzipi Livni (Hatnua) announced at week's end that she will propose a bill reforming the Tender Years Doctrine, which currently gives divorcing mothers near-automatic custody over children aged 0-6. The new formulation will only give mothers an advantage over fathers with children aged 0-2, making the law more egalitarian.
Livni's bill adopts many of the recommendations made by the Schnitt Committee, a committee of experts that was appointed by the Justice Ministry in order to propose a reform in the outdated Tender Years Clause.
Israel is one of the last countries in the world where the Tender Years Doctrine is still in force, if not the last. While the clause reflects an old world order in which mothers were expected to be homemakers and fathers were breadwinners, many feminist politicians and women's groups refuse to have it amended, claiming that the time is not yet ripe for such a change and that men will take advantage of it to put pressure on women in divorce.
The Schnitt Committee recommended that Israeli family law cease to use the term "custody" regarding children in divorce, and that instead, courts will establish "parenting arrangements" with both divorcing parents. The committee's report stresses the importance of having both parents involved in raising children of divorce, if this is at all possible. The report was largely adopted by Livni.
MK Zehava Galon (Meretz), who is considered an extreme feminist, vowed to fight Livni's proposal, as did other MKs of the same ilk, and academicians identified with a radical brand of feminism. Galon accused Livni of "replacing the protection of women with an attack on the good and well-being of children."
"As long as the religious law and the Knesset legislation do not ensure equality in responsibility for raising children during the marriage period, forcing formal equality in divorce will endanger children and their well-being," she claimed.
Largely as a result of delaying tactics by "feminist" politicians and academicians, the Schnitt Committee's deliberations took a full seven years. When the committee finally published its recommendations, Galon vowed publicly to "bury" them.
Meanwhile, MK Gila Gamliel (Likud-Beytenu) is proposing a bill that would completely abolish the Tender Years Doctrine and give both parents shared responsibility for raising their children.