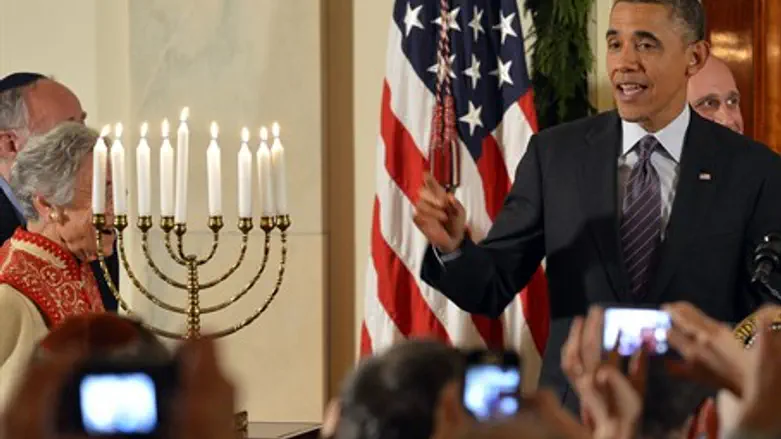 Obama during Hanukkah reception
Reuters
President Barack Obama on Thursday defended his nuclear diplomacy with Iran before an audience of Israeli diplomats and senior members of the U.S. Jewish community and officials, reports AFP.
Speaking during a White House Hanukkah reception, Obama said that it was important for the United States to test Iran's intentions, and pledged to keep working for a comprehensive deal to deprive Tehran of a nuclear weapon.
"For the first time in a decade we have halted progress of Iran's nuclear program," Obama was quoted as having said.
"Key parts of the program will be rolled back even though the toughest of our sanctions remain in place," he added.
"That is good for the world, that is good for Israel," Obama said, vowing to keep striving for a final deal with Iran over the coming months that takes care of the "threat of Iran's nuclear weapons once and for all."
Obama also said, however, that Washington must remain vigilant and that its commitment to Israeli security would remain "iron clad" and "unshakeable."
Prime Minister Binyamin Netanyahu has repeatedly expressed concern over the deal reached between world powers and Iran in Geneva, warning the agreement is dangerous and will allow Tehran to continue its nuclear program and give nothing back to the West while being rewarded with sanctions relief.
This position has placed the Israeli Prime Minister at odds with the U.S. administration, to the point where Obama reportedly told him to "take a breather" from his criticism and shift attention to the terms of the final deal still under negotiation.
Netanyahu, however, is not the only one who has rejected the deal. U.S. lawmakers from both the House and the Senate have expressed concern that the deal has allowed Iran to continue enriching uranium.
Senators are reportedly adamant on passing legislation that imposes new sanctions on Iran, despite heavy pressure by the Obama administration not to do so.
On Wednesday, Wendy Sherman, undersecretary of state for political affairs and the chief American negotiator with Iran, said the United States would be willing to consider allowing Iran some uranium enrichment in a final nuclear deal.