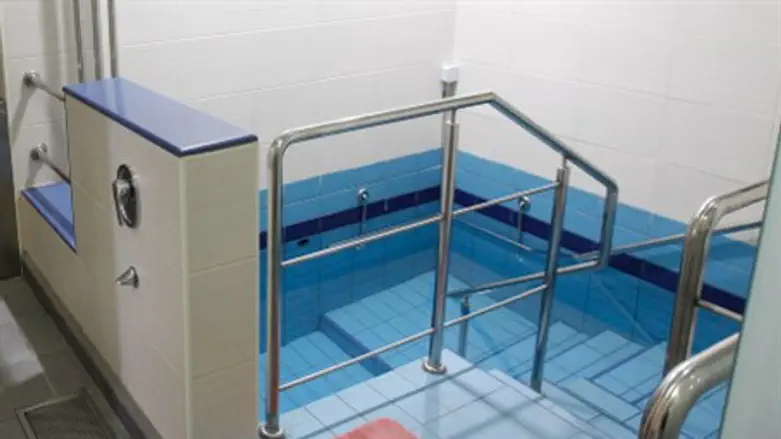 Mikva in Har Nof (illustrative)
Flash90
The Rabbinical Center of Europe (RCE) has launched a huge project to build 30 new ritual baths throughout Europe. The project's cost is estimated at two million euros (approximatey ten million Israeli shekel).
Rabbi Israel Yaakov Lichtenstein, a member of the Presidium of the Council of European Rabbis, will spearhead the project, and help select which communities will receieve the new mikvaot after sorting through hundreds of requests.
The organization explained that the criteria for selecting communities are, inter alia, the amount of people who use the mikveh and calculations regarding the distance between the Jewish community and the nearest available construction site. Construction will begin in about 2 months. 
Rabbi Aryeh Goldberg, vice president of the RCE, stated that "Rabbinical Centre of Europe now is an organization that helps rabbis and Jewish communities build Jewish life, in all areas. The project aims to increase the use of mikvaot by the Jewish nation and is just one of a long list of campaigns the organization plans to launch in the near future." 
Last year, the RCE launched a similar campaign, building over 20 ritual baths in the Netherlands, Germany, Ukraine, Russia and others. Rabbi Goldberg explains that so many new requests poured in that the operation was forced to expand. 
"Some of our requests come from Rabbis and other Jewish community members," Goldberg explains, "and some from members who do not even keep the full extent of the Torah's commandments. However, they understand the importance of a mikveh in Jewish life." 
All of the new project's plans will be scrutinized by Lichtenstein, architects, and engineers. The Center will not only aid the financial portion of the project, but will also address issues in Jewish law, and ensure that the process is carried out according to Torah guidelines. 
"We want to help in the construction the ritual baths we be used every Jew, regardless of origin or affiliation to the community, including tourists," the Rabbi concluded.