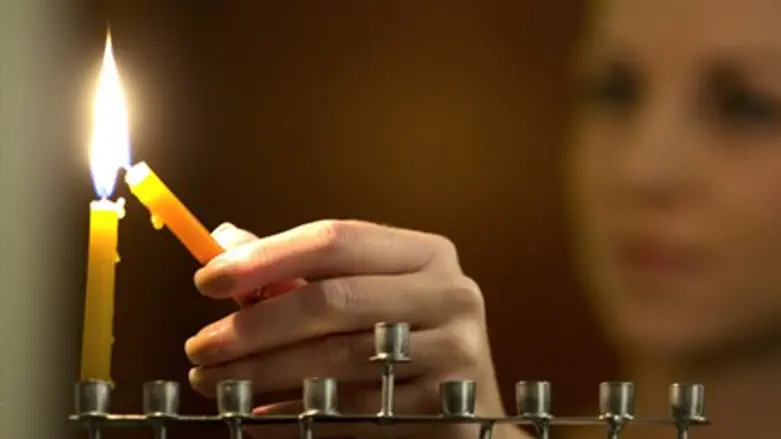 Hanukkah candle (illustration)
Flash 90
The Reform Center for Religion and State has discovered that no women are scheduled to light Hanukkah candles in Ben Gurion University's official Hanukkah ceremony, and it is upset.
The Center asked BGU President Rivka Karmi to overturn the decision, and to let women take part in reciting blessings at the ceremony and singing songs as well, but to no avail. According to Nana10 News, female students at the university also addressed the Dean of Students, Prof. Moshe Kaspi, on the matter, but his answer "amazed them."
Kaspi told the feminists that there is "a conflict between two values" regarding the issue. The first value is the objection to "exclusion of women," and the second is "tradition as it is widely accepted here."
"In this conflict," he went on, "I personally give more value to [tradition] – and right now, this is my watch."
BGU said in response that the request to let women take part in the candle lighting was filed a short time before the ceremony and therefore could not be honored, but it promised that starting next year, the candles will be lit by a man and a woman.
As for reciting blessings and singing – the university said it would conduct a separate ceremony to let women do this.
Veteran journalist Haggai Segal noted that every week, countless women in observant Jewish households light Sabbath candles, while men suffer "exclusion" from this ceremony. He asked sarcastically: "Will the Reform Center for Religion and State take action to stop this blatant discrimination as well?"