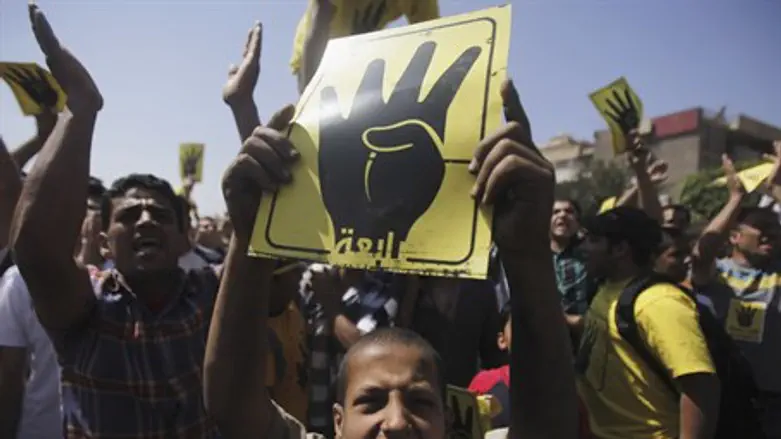 Illustration: Muslim Brotherhood protesters
Reuters
Egypt's Muslim Brotherhood has rejected the country's new constitution, nearly half a year since the ouster of Brotherhood-backed Islamist president Mohammed Morsi.
138 of the 247 articles of the draft new constitution, which has been deemed controversial even by secular opponents of the Brotherhood, was approved by a panel of 50 yesterday. The panel included groups who were left out of deliberations over the previous charter tabled by Morsi, including the Coptic Church and other secular representatives of civil society and political groups.
It includes just two Islamists, neither of whom is from Morsi's Muslim Brotherhood.
Part of the resistance it has met is due to the fact that it preserves the military's wide-ranging powers, including the ability to try civilians in certain cases.
Article 204 stipulates that "no civilian can be tried by military judges, except for crimes of direct attacks on armed forces, military installations and military personnel." However, opponents say that even under such terms the constitution provides a very wide scope for the military to try civilians - including activists - in military courts.
Another main article approved was one forbidding the formation of religious parties or parties based on religious grounds - although yet another aticle stipulates that Islamic sharia law will be the main source of legislation, as was also the case during the regime of toppled ruler Hosni Mubarak.
It will be put to a national referendum early next year as the first step in a "democratic transition" promised by the interim government headed by military strongman General Abdel Fattah el-Sisi.
The referendum is set be followed by presidential and parliamentary elections in mid-2014.
But pro-Brotherhood demonstrators protested angrily in Cairo's Tahrir Square, shouting "the people want the fall of the regime" - the slogan of popular protest movements which sprung up during 2011 at the start of the so-called "Arab Spring".
Police used tear gas to disperse the crowds, following which the army sealed off the square, according to local sources.
Tahrir has been at the center of the various mass-protests which brought down two successive Egyptian presidents - Hosni Mubarak in 2011 and Mohammed Morsi two years later.