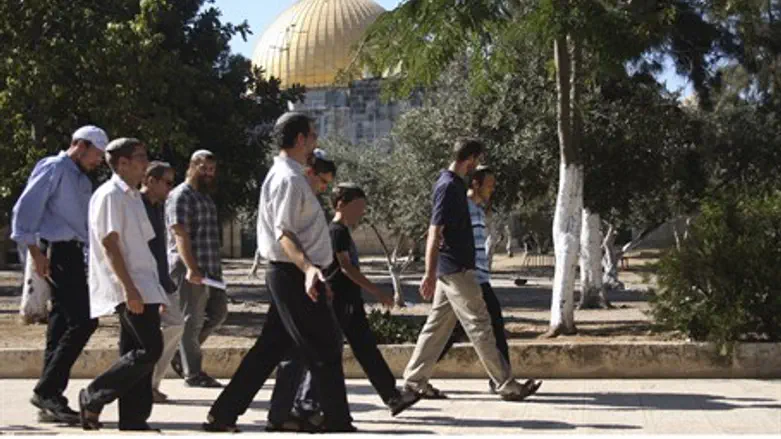 Jewish visitors on the Temple Mount
Flash 90
Israeli police closed the Temple Mount Sunday after Jewish visitors to the Mount - which is Judaism's holiest site and the exact spot of the events of the Hanukkah holiday - broke out into Hanukkah songs, enraging Muslim worshippers.
Following the song a scuffle broke out between Jews and Muslims. Four people were arrested.
Police have decided to close the Mount to all visitors until further notice. 
The Temple Mount is Judaism's holiest site, where the two holy Temples of Israel stood prior to their destruction, and where some Jewish traditions teach that the creation of the world began. The site is also the location of the Hanukkah miracle, where the Maccabees rededicated the Second Temple after 3 years of defilement by Greeks and Greek sympathizers. 
It is also the site of the Al-Aqsa Mosque, one of the largest mosques in the region.
The Mount has also been frequently closed to Jewish visitors and is often the site of blatant anti-Jewish discrimination. Jews are prevented from praying or performing any other religious ritual, while Muslim and Christian visitors pray freely. 
Just 2 days ago, Sheikh Raed Salah, the head of the radical Islamist movement in Israel, denounced efforts by MKs to open the Mount for all visitors. His words follow accusations of inspiring Arab incitement against Jews on the Mount, as well as a marked upswing in Arab-on-Israeli violence in the area.