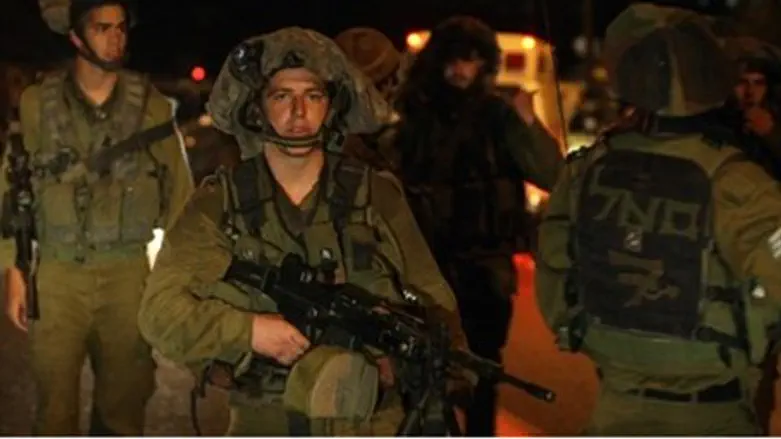 (Illustration) IDF soldiers
Flash 90
A large IDF and Border Guard force operating in the southern Hevron Hills killed three wanted terror suspects Tuesday evening.
The first two terrorists - part of a independent cell of Salafist jihadis - were shot dead in the vehicle they were travelling in, after opening fire on security forces operating in the Arab settlement of Kfar Yatta.
Upon inspecting the vehicle, soldiers discovered a cache of weapons and explosives which the men are believed to have planned to use in a future attack against Israelis, including "two pistols and a number of demolition blocks (explosives)", according to the Shin Bet (Israel Security Agency).
"In an operation by special forces... in the Hebron/Yatta area, two members of a Salafist jihadist network that was active in the area and planned an attack were killed," the IDF said in a statement shortly afterwards.
An AFP correspondent in the area said the army had sealed off the area and was searching for a third suspect who apparently had been in a car with the two when the shooting took place. Security forces soon located the third terrorist, who was killed in a brief firefight with IDF forces.
Local residents named the three as Moussa Abdelmajid Fanasheh of Yatta, Mahmoud Khaled Najjar from the nearby town of Dura and Mohammed Neirukh of Hevron, all of them in their 20s.
An IDF source speaking to Arutz Sheva described the operation as a "Hanukkah miracle", saying that a major attack in Judea and Samaria had been prevented during the upcoming Hannukah holiday.
There were no casualties to IDF forces.
Security sources say the raid was carried out in response to credible intelligence of an imminent attack by Islamist extremists against both Israeli and Palestinian Authority targets.
Prior to Tuesday's incident, "a number of members of the network were recently arrested", and based on their interrogation the Shin Bet established that "the members of the network planned a series of attacks against Israeli targets and the Palestinian Authority."    
The statement noted that in recent months the members of the network "were establishing a broad military infrastructure, including preparing safe houses, purchasing arms and producing explosives."
Despite their shared hostility towards Israel, Islamist groups often condemn the largely secular Palestinian Authority as "heretical", and are staunchly opposed to the ongoing talks between Israel and PA.