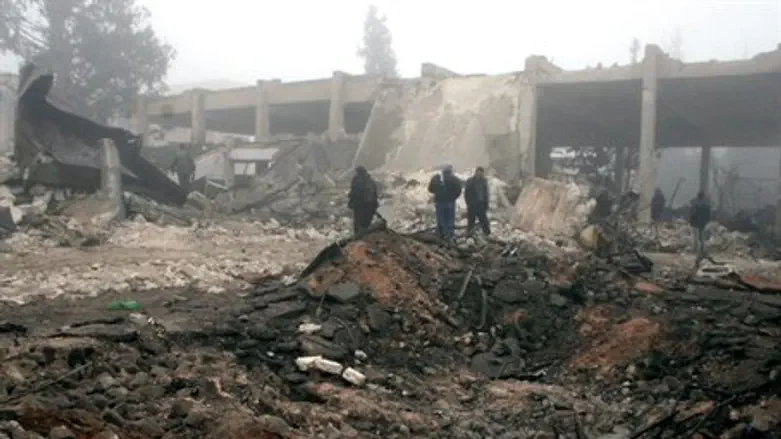 Destruction in Syria
AFP photo
Syrian opposition fighters, including members of the Al-Qaeda affiliated jihadist Al-Nusra Front, seized the country's biggest oil field on Saturday, reports Al Arabiya.
"Fighters from Al-Nusra and other groups have taken the Omar oil field in Deir Ezzor province after clashes overnight," said Rami Abdel Rahman, the director of the Syrian Observatory for Human Rights.
Abdel Rahman said government troops had withdrawn from the field.
A video posted online by opposition activists showed fighters milling around an entrance to the field, as others drove a tank said to have been captured from regime troops after they withdrew.
Speaking directly to the camera, one activist said fighters had captured seven tanks.
There was no immediate comment from the government and it was not possible to verify the reports of the capture independently, noted Al Arabiya.
If confirmed, however, the loss of the al-Omar oil field could leave President Bashar Al-Assad's forces almost completely reliant on imported oil in their highly mechanized military campaign to put down a 2-1/2-year uprising.
"Now, nearly all of Syria's usable oil reserves are in the hands of the Nusra Front and other Islamist units ... The regime's neck is now in Nusra's hands," Abdel Rahman told Reuters.
Meanwhile in the northern province of Aleppo on Saturday, army air strikes killed at least 40 people and wounded dozens, most of them civilians, the Observatory said.
But opposition fighters, particularly powerful Islamist factions, still hold large swathes of territory in northern and eastern Syria.
In Aleppo, several Islamist groups which split off from the Western-backed Syrian National Council declared the region to be an independent Islamist state.
The jihadists in Aleppo have set up a court based on Sharia (Islamic law) which is authorized to issue execution orders for serious offenses.
These executions, usually carried out by beheading those convicted, are a regular occurrence and an example of atrocities carried out by the rebels.
Several weeks ago, Jihadist rebels in Syria had to ask for "understanding and forgiveness" after they beheaded the wrong man.
The rebels, belonging to the Al-Qaeda-affiliated Islamic State of Iraq and al-Sham (ISIS), published a video showing the head of a man they said was part of a Shiite militia fighting for Assad.
As it turned out the head belonged to a member of another jihadist rebel group that often fights alongside ISIS, though it does not share its Al-Qaeda ideology.
Several months ago, a Catholic priest who was accused of collaborating with Assad's regime was publicly beheaded, with the execution filmed and posted to the Internet for all to see.