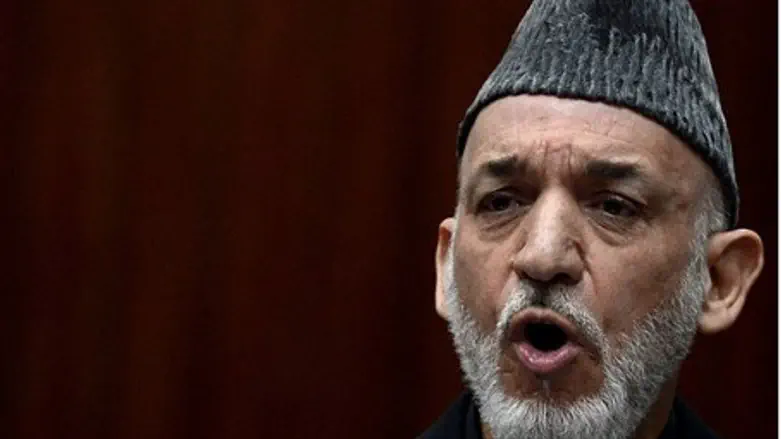 Afghan President Hamid Karzai
AFP file
On Thursday Afghan President Hamid Karzai said a security deal with the US should be postponed until after next year's April elections. In response the US said delaying the pact until 2014 was "neither practical nor possible."
Karzai's statement comes as 2,500 tribal and political leaders are gathering in Kabul for a grand council on Friday to debate the agreement to have US troops stay in the country following a 2014 drawdown of foreign forces, reports Al Jazeera.
The bid for delaying the US security deal highlights tensions between the US and Afghanistan's government.
In making his comments Karzai said frankly "my trust with America is not good. I don't trust them and they don't trust me. During the past 10 years I have fought with them and they have made propaganda against me."
Furthermore, during Karzai's statements a female senator interrupted him, shouting that any deal with the Americans meant betraying the country.
The Afghan distrust follows on the heels of Wednesday reports that Egypt reached a $4 billion arms deal with Russia designed to let Egypt at least achieve parity with the IDF. Egypt's US alliance has cooled since America partially froze military aid following former President Mohammed Morsi's ouster in June.
If the security pact is signed, up to 15,000 foreign troops could remain in Afghanistan after 2014. If it isn't, the US could withdraw all of its troops and leave Afghan forces to deal with the Taliban insurgency by the end of 2014.
State Department spokeswoman Jen Psaki expressed US desires to have the pact signed, saying signing it "sooner rather than later is essential to give Afghans certainty about their future before the upcoming elections, and enable the United States and other partners to plan for US presence after 2014."