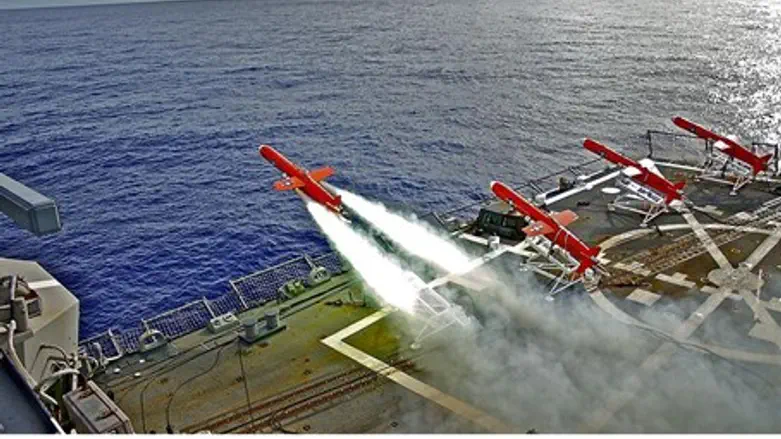 Illustration: US drones take off
Israel news photo: US Navy official photo
A drone attack on an Islamic seminary in Pakistan, likely carried out by the US, left 5 dead on Thursday. The attack comes despite Pakistan's opposition to US drone strikes.
The leader of the Afghan Taliban-linked Haqqani terror network, Sirajuddin Haqqani, paid a visit to the seminary just two days earlier, reports Al Jazeera.
According to a local police officer, Fareed Khan, the drone fired at least three rockets at the religious school in Pakistan's northwestern region of Khyber Pakhtunkhwa, killing two teachers and three students.
American drone strikes have been a point of contention with the Pakistani government, which fears they threaten peace talks currently being held with the Pakistani Taliban to end its six year insurgency that has left thousands dead.
On November 3 the US Ambassador was summoned by the Pakistani government regarding two drone attacks that killed Pakistani Taliban leader Hakimullah Mehsud along with four other suspected terrorists. Mehsud at the time had a $5 million bounty on his head, courtesy of the US government.
The drone attack Thursday came a day after Sartaj Aziz, Pakistan's foreign policy chief, said the US had promised to end drone attacks during the peace talks with the Taliban.
Meanwhile another attack occurred on Thursday, this time in the southwest part of Pakistan. Security forces were targeted by a bomb hooked up to a bicycle in Quetta, the capital of Balochistan province. The blast killed three, including two policemen, and wounded 25.