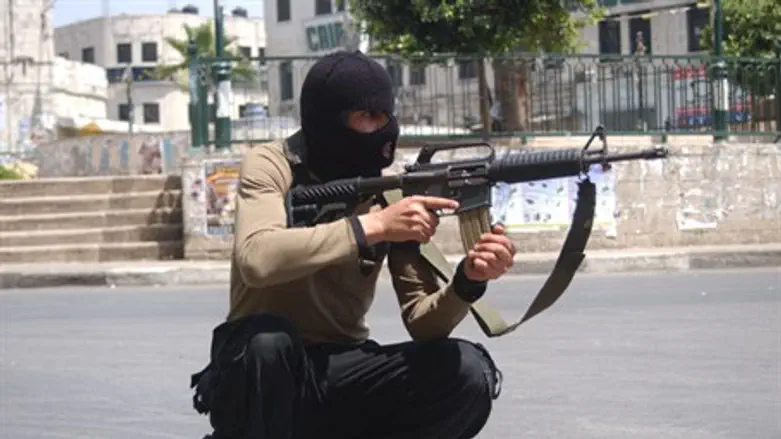 Terrorist (illustration)
Israel news photo: Flash 90
An Iranian citizen was recently arrested in Azerbaijan after he was observed looking at the Israeli embassy in Baku in a suspicious manner.
According to Channel 10, which reported the incident on Wednesday, the arrest took place two weeks ago. The man has been identified as 31-year-old Hassan Faraji.
After several hours of interrogation it was revealed that Faraji belongs to the "Quds" elite unit of the Revolutionary Guards which is responsible for carrying out attacks against Israeli targets abroad.
Local police raided his home, where they found plans and photographs indicating the intention to carry out a series of attacks against Israelis and Israeli diplomats at the embassy, according to Channel 10.
Iranian media has claimed that Faraji was tortured by the Azeri authorities.
A relative of his told the ISNA news agency on Monday that he is being tortured by Azeri security officials to make confessions "in favor of Israel."
An informed source told the news agency that Iran's embassy in Baku has requested access to Faraji but the Azeri government has denied the request.
Officials at Azerbaijan's embassy in Tehran told ISNA they have no information about Faraji's fate.
In October, a court in Azerbaijan sentenced Iranian citizen Bahram Feyzi to 15 years in jail for plotting an attack on the Israeli embassy in the country. Feyzi was arrested by Azerbaijani security forces in March.
In February of 2012, authorities in Azerbaijan arrested a terrorist cell whose members belonged to the Hezbollah terror group and held Iranian passports.
The members of the terror cell were arrested on suspicion of planning to carry out a terrorist attack in Azerbaijan, but no details were provided on whether the terrorists specifically targeted Israeli civilians.
In January of that year, Azerbaijan officials said they uncovered an Iranian-linked Muslim gang that plotted to assassinate Chabad rabbis who teach at the Chabad Jewish school in Baku.