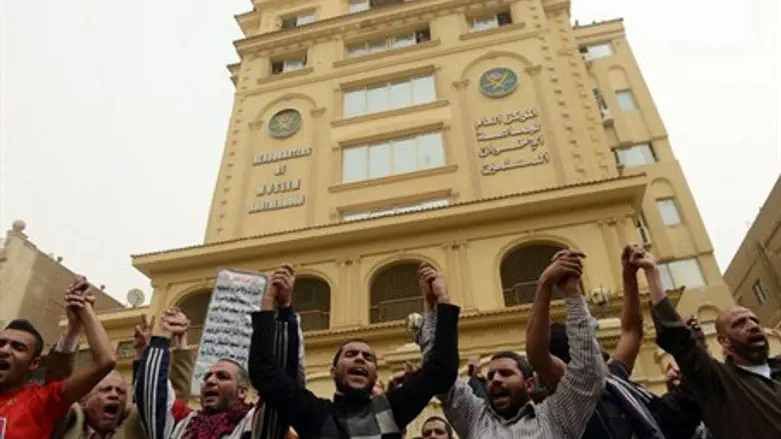 Muslim Brotherhood members gather in front th
AFP photo
U.S. Secretary of State John Kerry on Wednesday accused the Muslim Brotherhood of "stealing Egypt's revolution", AFP reported.
In a speech to a forum on enhancing links between private sector businesses and diplomatic security agencies, Kerry said "the best antidote to extremism is opportunity."
"Those kids in Tahrir Square, they were not motivated by any religion or ideology," he said.
"They were motivated by what they saw through this interconnected world, and they wanted a piece of the opportunity and a chance to get an education and have a job and have a future, and not have a corrupt government that deprived them of all of that and more," added Kerry.
"They tweeted their ways and Facetimed their ways and talked to each other, and that's what drove that revolution. And then it got stolen by the one single-most organized entity in the state, which was the Brotherhood," he charged.
Kerry's comments are the harshest he has made against the Brotherhood since the Egyptian army ousted Islamist president Mohammed Morsi in July.
A month after Morsi's ouster, Kerry said in a TV interview that the Egyptian army had intervened at the request of millions to protect democracy and had restored it.
Kerry's comment was seen by some as a signal the U.S. was siding with the military, even though the State Department had repeatedly said the U.S. is not taking sides. He later tried to clarify his comments, saying that all of the parties — the military as well as pro-Morsi supporters — should be inclusive and work toward a peaceful resolution of the crisis.
The United States announced in October that it would withdraw a significant portion of its military aid to Egypt. The U.S. provides $1.5 billion in annual aid to Egypt, but no dollar amount of the aid being cut was provided.
The decision came after months of debate since Morsi was deposed. U.S. law forbids sending aid to countries where a democratic government was deposed by a military coup, but the U.S. has never qualified Morsi's ouster as a "coup" and has been cautious about doing so.
The harsh government crackdown on pro-Morsi protestors was seen by the U.S. as a step too far by the interim government.
More than 1,000 people, mainly Morsi supporters, have been killed since July 3 and authorities have rounded up some 2,000 Islamists, including most of the Muslim Brotherhood's leadership.
U.S.  lawmakers have urged the White House to lift its suspension of military aid to Egypt, warning that freezing funds and weapons deliveries might unravel decades of cooperation with a key regional ally.