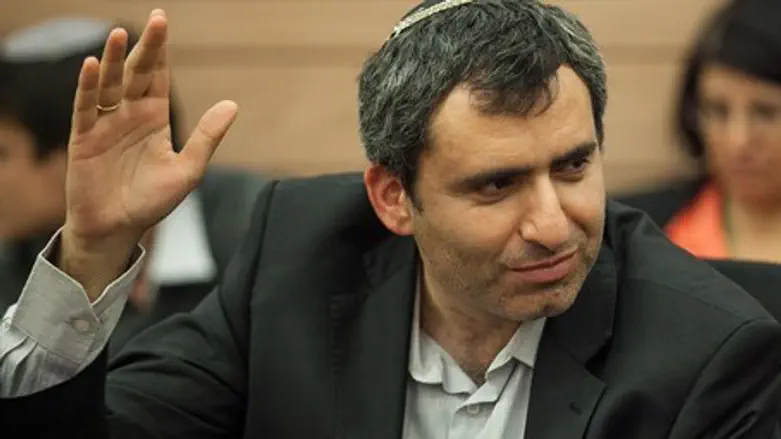 Deputy Foreign Minister Zeev Elkin
Flash 90
The third round of talks between Iran and the Western powers on limiting Tehran's nuclear program is set to begin in Geneva Wednesday. The West is attempting to convince Iran to, at the very least, agree to limit its enrichment of uranium, in exchange for a significant easing of the sanctions against the country. Israeli sources said that it appeared that the deal was close to being approved, but that Jerusalem still had hopes that it could convince some of the countries to maintain a tough stance on Iran's programs.
An agreement was said to be close in the last round of talks over a week ago, but was scuttled over concerns raised by France that the guarantees given by Iran that it would fulfill its end of the bargain were not substantial enough.
On a visit to Israel this week, French President Francois Hollande restated his absolute opposition to Iranian nuclear weapons. "We will never accept Iran's possessing nuclear weapons," said Hollande. "This is a threat to the security of Israel and a threat to the entire world."
According to the proposed agreement, Iran would halt its program of enriching uranium to the point where it could be used for nuclear weapons (the 20% enrichment level), and agree to host inspectors who will have free access to all their nuclear facilities.
In exchange for that, most of the sanctions against Iran will be lifted. Israel has been concerned that lifting the sanctions will give Iran more incentive for secretly continuing its nuclear weapons development program, but the U.S. said that it would re-impose sanctions immediately if Iran was discovered to be cheating.
On Wednesday, Prime Minister Binyamin Netanyahu will travel to Russia, where he will meet President Vladimir Putin. Netanyahu will discuss the Iranian issue with Putin. Russia has declared that Iran has a right to develop a civilian nuclear program, and has generally advocated easing sanctions on Tehran. Sources said that Netanyahu realizes there is little hope of swaying Moscow from its position, but will make Israel's case as forcefully as he can.
Speaking to Arutz Sheva Tuesday, Deputy Foreign Minister Ze'ev Elkin said that based on the information Israel had on the developing agreement, it could be considered "a bad deal that will allow the Iranians to continue advancing their nuclear program, to the point where they will be able to develop it quickly, alleviating any Western response." Elkin added that, if necessary, Israel could deal with the issue itself, despite that being far more complicated than if the Western powers were involved.