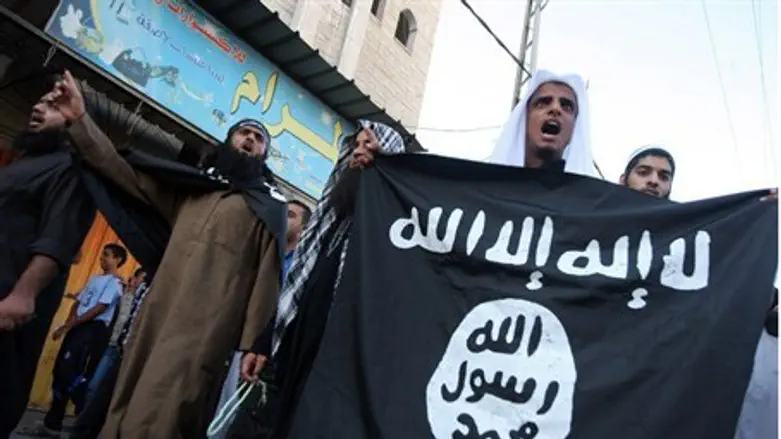 (illustrative) al Qaeda demonstration
AFP/File
An Al-Qaeda-linked terrorist group calling itself the Abdullah Azzam Brigades has claimed responsibility for the attack Tuesday on the Iranian embassy in Beirut. The attack killed 23 people, among them an Iranian attaché, and wounded an additional 146.
The attack was carried out by two suicide bombers.
Brigades leader Sheikh Siraj al-Din Zureiqat warned that the group would continue its attacks until Iranian forces leave Syria. The Sunni Muslim terrorist group backs the Syrian rebellion, while the Shiite Muslim country of Iran – and the Shiite Muslim Lebanese terrorist group Hezbollah – back embattled Syrian President Bashar Assad.
Previous bombings in Lebanon over the past year have also been linked to the Syrian civil war, however, this is the first time Iran has been targeted.
The Abdullah Azzam Brigades' previous attacks include rocket fire on Israel. The group has attacked northern Israel multiple times over the past four years. Its most recent attack took place in mid-2013; the attack caused damage but not injury.
The United States declared the group a terrorist organization following a 2010 attack on a Japanese-owned tanker in the Strait of Hormuz.
Shortly before the Brigades claimed responsibility for the Beirut attack, Iranian ambassador to Lebanon Ghadanfar Roknabadi accused Israel of being behind the blast. In an interview with Al-Manar, Roknabadi said Iran was "proud to be ahead in confronting the Israeli schemes" and that the explosion served "Zionist entity schemes."