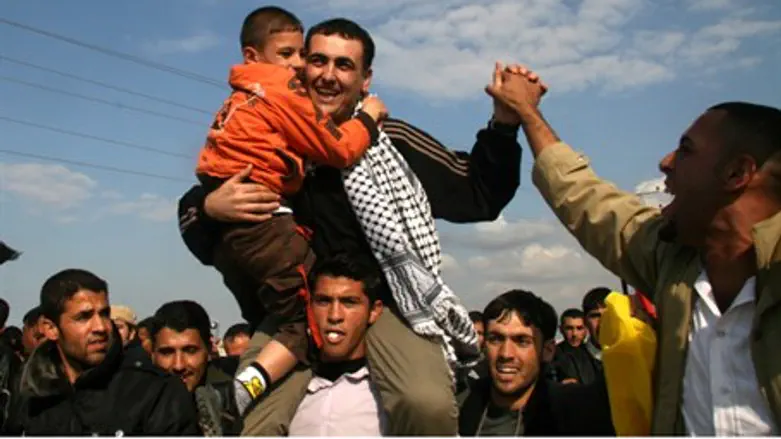 Celebration at previous prisoner release
Flash 90
Supreme Court Justice Neal Hendel has upheld a decision not to let a Palestinian Authority-resident terrorist go free 10 years before his sentence for murder has ended.
Mahmoud Awald was convicted in 1994 of the murder of Hagai Shalhevet. He and his uncle had killed Shalhevet by binding him and strangling him to death; the murder was found to have been an act of terrorism.
In 2012 parole board agreed to release Awald early, citing his good behavior in prison in recent years, the fact that he has served two-thirds of his sentence – a 30-year term that was to end in 2023 – and a rehabilitation plan offered by the Al-Amal Center.
State prosecutors appealed the decision, and in May 2013 an administrative court overturned the early release order. Justice Hendel upheld that ruling.
Awald's good behavior in prison "is a precondition for [early] release, but is not sufficient," Hendel ruled.
Palestinian Authority-resident criminals are equally eligible for early release from prison, he continued. However, he noted, their post-release location complicates the issue of parole.
"We're talking about a brutal murder that was committed through entering [Israel] from the Authority [territory]. But moreover – and this is the crucial point – the evidence indicates that there will be no effective oversight without the help of the Israel Police, which has announced that due to the objective limitations involved, it will not be able to help," he wrote.
"If this is the situation, it must be given the proper weight… Even if the Al-Amal Center would report any relevant violation of the rehabilitation plan, the question is what the consequences would be… Conditional [early] release is conditional; failure to meet the terms of release is likely to lead to serving the remainder of the term," he continued.
"This is why the conditions of release are essential," he explained.
Hendel noted that the issue was particularly pressing "based on the crime committed, which shows a high level of potential threat, and based on the long term remaining."
"I am not assuming that [Awald] would violate his release conditions," Hendel clarified. "But since legislators have determined that the deciding factor must be preventing a threat to the public, the concerns outlined here are sufficient to tilt the balance."
The Palestinian Authority and the Fatah faction which dominates it have continued to praise terrorism despite ongoing talks between the PA and Israel. PA leaders recently caused anger in Israel with a decision to award released terrorist killers $50,000 and a guaranteed job each.