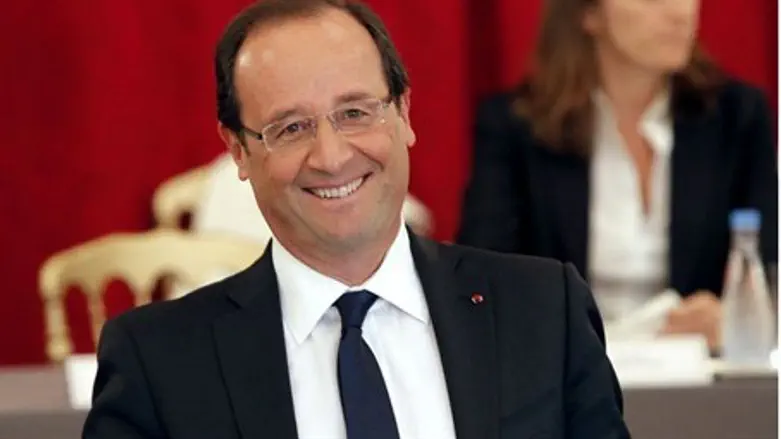 French President Francois Hollande
AFP photo
French President Francois Hollande was meeting the Palestinian Authority (PA) leadership on Monday to discuss the faltering Middle East "peace process" after a day of talks in Israel focused heavily on Iran.
On his return to Jerusalem, Hollande will address the Knesset and is expected to deliver a "very clear message" regarding Iran's nuclear program.
After being warmly received in Jerusalem following France's strong stance in world talks with Iran over its contested nuclear program, Hollande headed to Ramallah for a morning of talks with PA Chairman Mahmoud Abbas.
On arrival at the Muqataa compound, a brief 15-minute drive from Jerusalem, the French leader paid his respects at the tomb of Yasser Arafat.
Hollande then met Abbas for talks in which he was expected to present a budgetary support package worth 10 million euros as well as a training program for PA staff, and to confirm the opening of a French high school in Ramallah.
Paris is one of the biggest international donors to Abbas's PA, providing some 50 million euros per year through the European Union and various development programs.
Abbas told AFP on Sunday that the PA ia committed to seeing out the full nine months of talks as agreed with Washington – a deadline which expires in late April.
"We have committed to continue the negotiations for nine months, regardless of what happens on the ground," he told AFP in an exclusive interview.
Hollande called on Monday called for a complete halt to Israel's "settlement activities" in Judea and Samaria. "France demands a full and complete halt to settlement activity," he said at a joint news conference in Ramallah with Abbas.
Speaking on his first official visit to the PA, the French leader warned that construction of Jewish communities in Judea and Samaria was problematic for the "peace talks" which have been limping along for more than three months with little sign of progress.
"Settlement activity complicates the negotiations and makes it difficult to achieve a two-state solution," Hollande said.
Hollande's meetings in Israel on Sunday were dominated by the Iranian nuclear issue, although he did raise the matter of "peace talks." France, he said, expects Israel to make "gestures" over its construction of settlements on land the Palestinians want for a future state, although he did not indicate what that might involve.
"Settlement building will not make reaching an agreement easy, settlement building is complicating what could be a final agreement," he said on Sunday. "If you want peace, you need to have gestures towards peace."
But France was also expecting "efforts" from the Palestinians.
"It is clear that this will require efforts from the Palestinians as a number of Israeli settlements will remain," a member of Hollande's entourage said.
On his return to Jerusalem, Hollande will address the Knesset in a speech aimed at reaffirming France's commitment to Israel's security.
The speech will also deliver a "strong message" on the peace process and a "very clear message" on Iran's nuclear program, French officials said.
Hollande had on Sunday reiterated his nation's "unwavering support" for Israel and vowed that Paris would not yield on the Iranian nuclear issue.
"For France, as long as we are not certain that Iran has decided to give up on nuclear weapons, we will continue with all our demands and with sanctions," he said.
Hollande's visit comes three days before the P5+1 group of world powers are to resume talks with Iran in Geneva to eke out a deal for scaling back Tehran's nuclear program in exchange for sanctions relief.
A previous round of talks ended on November 10 without agreement, with France taking a tougher stance than its Western partners in a move which won glowing praise in Israel.