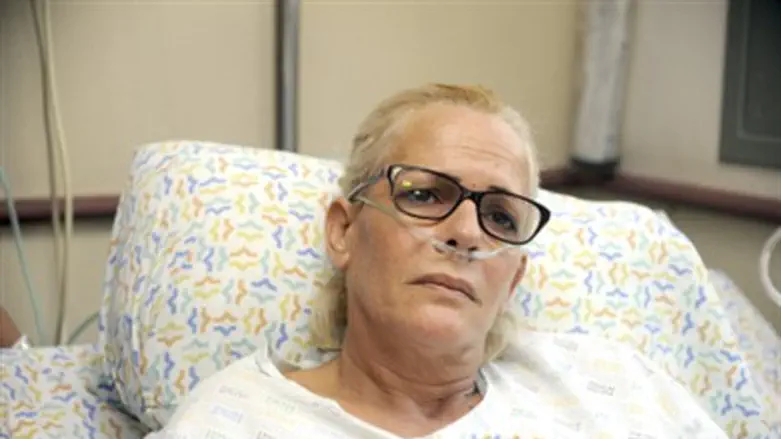 Monique Ofer
Flash 90
Monique Ofer, whose husband, Col. (res.) Sraya ("Ya-Ya") Ofer was brutally murdered by Muslim Arab terrorists in October, was not the least bit surprised by the news that the attackers were motivated by religion and nationalism.
"Of course it was nationalistically motivated," she told reporters from the hospital bed where she has been recovering from injuries she sustained while fleeing the terrorists. "Of course these people came to murder Jews. Of course their intention was to kill a man with a very respectable past, which for them is a matter of great pride. 'Look, we killed a former IDF colonel.' It's shocking and it's terrible.
"People, it's a third intifada," she told reporters in an angry and passionate plea. "Just like you're taping me now, yesterday you taped the attack in which a soldier was stabbed, you were at Tapuach Junction when there was gunfire there, you were in places where they threw rocks, where they stabbed a soldier.
"People, you need to wake up. This country needs to wake up. This is a real intifada. Is this their gesture? Is this the thanks we got from the Palestinians after we returned their prisoners? That is how they repay us? By murdering every single day?
"They sentence us without a trial. We bring these low-lives to trial, we let them study for a degree, we let them feel like heroes in jail, and after a few years, we return them. Who will give me Ya-Ya back? Who will give that soldier back to his mother? Who will return all the others from the past? Right now, the only ones returning are the ones who were in prison and are going back to their families to become terrorists again.
"The government has to stop. In view of everything that is going on today – no negotiations, there must be no negotiations. I don't understand how we can sit with them at the negotiating table when there is an event like this every day. Of murder! How can we negotiate? It's terrible? There is nothing to talk about. They have no right to demand any condition of us. It must be stopped. These low-lives understand only force."
"Intifada," an Arabic term meaning "shaking off the yoke," is used in reference to a violent uprising by the Arabs of Judea, Samaria and Gaza in 1987-1993 and a murderous terror war launched by them in 2000-2009 that killed 1,178 Israelis, 70% of them civilians, in over 20,000 attacks that included 144 suicide bombings.