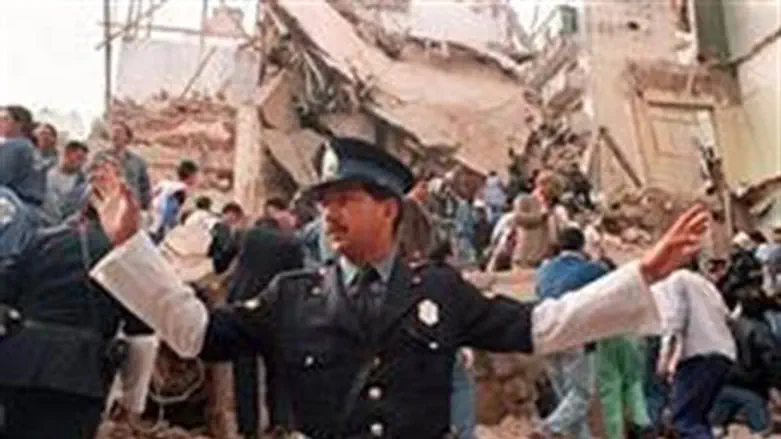 Aftermath of AMIA bombing
AFP/File
An Argentine prosecutor Wednesday asked a judge to declare unconstitutional an agreement with Iran to probe the 1994 bombing of a Buenos Aires Jewish center after charges Tehran ordered the attack, AFP reports.
The attorney general in the case, Alberto Nisman, said the agreement constitutes an "undue interference of the executive branch in the exclusive sphere of the judiciary."
The van bombing of the building of the Argentine Jewish Charities Federation, or AMIA, left 85 people dead and 300 others injured in the worst attack of its kind in the South American country.
Argentina charges that Hezbollah, the Lebanese Shia terrorist group, carried out the attack under orders from Iran. Tehran's clerical regime denies the charges.
Since 2006, Argentine courts have demanded the extradition of eight Iranians, including former president Akbar Hashemi Rafsanjani, former defense minister Ahmad Vahidi and Mohsen Rabbani, Iran's former cultural attache in Buenos Aires.
In February, Argentina's congress approved, at the request of the executive branch, an agreement with Tehran to form a truth commission to investigate the bombing, consisting of five members who don't come from either Argentina or Iran. It also authorized an Argentine judge to travel to Iran to question the former officials accused of involvement.
Iran finally confirmed in September it had approved the deal, after several demands from Argentina. But the two sides have still not named the members of the investigative commission, and there has been no agreement on a date for Argentine investigators to travel to Iran to interview suspects.
Leaders of Argentina's Jewish community, which at 300,000 people is the largest in Latin America, have criticized the accord. Major Jewish groups released a statement earlier this year that a deal "would imply a decline in our sovereignty. To ignore everything that the Argentine justice has done and to replace it with a commission that, in the best of cases, will issue, without any defined deadline, a 'recommendation' to the parties constitutes, without doubt, a reversal in the common objective of obtaining justice."
The request comes at a critical time for Iran, following a general change in Western attitudes toward the Islamic Republic in light of talks about a possible diplomatic deal. The talks, which resume November 20, discuss whether or not Western powers would agree to a deal which would reduce economic sanctions on Iran in exchange for Iran's reduction of its nuclear capabilities.
In light of the proposal - and the election of alleged "moderate" Hassan Rouhani as the Foreign Minister - several countries, including the US and Britain, have re-established or upgraded diplomatic ties with Tehran.