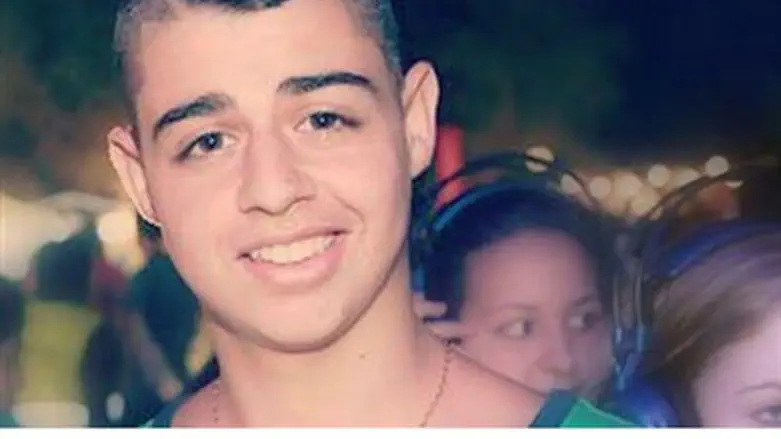 Eden Atias, Hy"d
Facebook
IDF Private Eden Atias, 19, of Natzrat Illit, has died after an Arab terrorist stabbed him in the neck and upper body in the Central Bus Station at Afula, in northern Israel, Wednesday. The attack took place inside a bus. Pvt. Atias was on his way to the military base in which he served.
"The Israeli soldier who was stabbed this morning by a Palestinian on a bus at the Afula bus station has died of his wounds in hospital," police spokesman Micky Rosenfeld told AFP.
The attacker has been identified as an Arab aged 16 from the Palestinian Authority city of Jenin, who is reportedly staying illegally in Israel. He attacked the soldier at about 8:45 a.m., and stabbed him repeatedly. Civilians who were present at the scene neutralized him and stopped the attack at a certain point.
The soldier received initial medical care on the spot and was taken to Haemek Hospital in very serious condition.
An eyewitness named Tal told IDF Radio that she was walking past the bus when people began shouting "terrorist!" and a large commotion ensued. "The terrorist tried to run away but the police managed to catch him," she added.
Another eyewitness told Maariv that the soldier, who is about 18, got on the bus at Nazareth, together with the terrorist. The soldier fell asleep on the way to Afula and at a certain point, the Arab began stabbing him over and over again, until other passengers grabbed hold of him and alerted security forces.
IDF Radio said that the attacker confessed that he left his home and got on the bus at Nazareth, with the intent of stabbing civilians, supposedly as revenge for the fact that his uncles are being held in Israeli jails.
The attack appears typical of the terror strikes that the Palestinian Authority (PA) under Mahmoud Abbas encourages through incitement, in a way that allows the PA to maintain that it is innocent of actually planning and organizing attacks, and that it did not send the terrorists on their missions.
Israel has weakly protested the PA's non-stop incitement for years, but has never gone as far as to make "peace talks" with the PA conditional on a complete cessation of incitement.
PA residents are routinely exposed to television, radio and printed media content that glorifies murderers of Jews and encourages violence against Israel. When a PA youth seeks to attack Jews, he does so knowing that he has the full moral backing and encouragement of the PA, which will then glorify him, pay him a salary when he is jailed, and demand to free him in an Israeli "gesture."