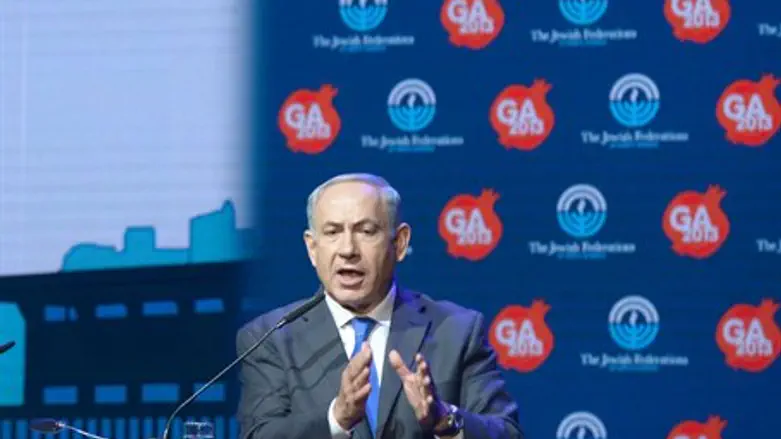 Netanyahu at JFNA General Assembly
Flash 90
Prime Minister Binyamin Netanyahu vowed on Sunday that he will always ensure the security of the State of Israel.
Speaking at the Jewish Federations of North America General Assembly, Netanyahu warned once again that the deal being made with Iran was dangerous. He also took a shot at U.S. Secretary of State John Kerry, who had hinted in an interview earlier that Netanyahu was not aware of the terms of the proposed deal.
Netanyahu responded to Kerry by saying, "I'm continuously updated in detail."
"For decades we have been struggling mightily against a regime that calls for our destruction and it pursues nuclear weapons in order to achieve our destruction," said Netanyahu.
The West, he added, "put together a sanctions regime that has brought Iran to its knees, crippling sanctions. The purpose of those sanctions was to get Iran to dismantle – dismantle – its nuclear enrichment capabilities, which are used for atomic bombs and its heavy water plutonium reactor, which is used for atomic bombs.
"This is what the sanctions are for," said Netanyahu. "They're not for preventing civilian nuclear energy or medical isotopes. I suppose Iran is building those ICBMs in order to launch medical isotopes to the Iranian patients orbiting the Earth. It is to prevent fissile material – that's the material that you put inside an atomic bomb – that's what those sanctions were about. To dismantle the centrifuge installations, underground military installations, centrifuge halls, and the plutonium reactor.
"Now there's a deal. Why the Iranians came to deal is obvious: because the sanctions are biting, biting their economy, crippling that regime. So they came to the table because they have to. And what is being offered now, and I'm continuously updated in detail. I know whereof I speak. What is being proposed now is a deal in which Iran retains all of that capacity. Not one centrifuge is dismantled. Not one."
Under the proposed deal, warned Netanyahu, "Iran gets to keep tons of low enriched uranium and they can take these centrifuges, which are not dismantled, in the halls, underground, which are not dismantled – using advanced centrifuges that they've already installed, some of them, that are not dismantled – and they can rush within a few weeks, maybe a couple of months, that's all, and create at the time of their choosing, the fissile material for a bomb.
"Iran does not give up anything of that. It makes a minor concession that is meaningless in today's technology and in their current capacities. In other words, none of the demands of the Security Council resolutions, which the P5+1 powers passed are met. None of them! But what is given to them is the beginning of the rollback of sanctions.
"This means that the sanctions that took years to put in place are beginning to rollback with several billions of dollars of assets that are freed up; the automotive industry contracts that is central to Iran's economy freed up; petrochemical industry freed up; matters that involved gold and even petroleum revenues freed up some," he said.
This deal, Netanyahu said, is "a bad deal. It's a dangerous deal because it keeps Iran as a nuclear threshold nation and it may very well bring about a situation where the sanctions are dissolved or collapsed. It's a bad and dangerous deal that deals with the thing that affects our survival. And when it comes to the question of Jewish survival and the survival of the Jewish state, I will not be silenced, ever. Not on my watch."