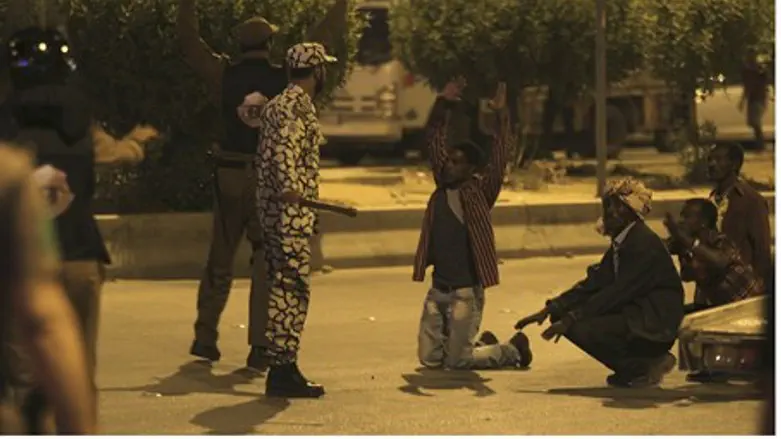 Saudi police detain Ethiopian immigrants in R
Reuters
Two people have been killed and hundreds arrested as riots broke out in the Manfuhah neighborhood of the Saudi Arabian capital Riyadh on Sunday.
Clashes erupted between illegal immigrants and Saudi police, as authorities continued their crackdown on illegal immigrants, which began a week ago following the expiry of a nationwide amnesty.
Saudi police said they were forced to intervene after an angry mob rampaged through the area, home to a large, mainly east-African illegal immigrant population, attacking locals and fellow immigrants alike with knives and rocks.
One of the dead is believed to be a Saudi national, and the other an illegal immigrant whose identity and nationality have not been disclosed.
A total of 68 people were injured and more than 560 were arrested, according state media.
The latest deaths follow the killing of an Ethiopian immigrant on Wednesday. According to reports the man was shot dead by Saudi police as they moved in to clear illegal encampments set up by immigrants.
According to the BBC nearly one million foreigners are believed to have left the Gulf state in the last three months, from countries including Bangladesh, India, the Philippines, Nepal, Pakistan and Yemen.
With one eye nervously monitoring regional unrest, much of which has been fueled by economic discontent, authorities in the Arab world's largest economy have sought to rapidly reduce the country's 12% unemployment rate.
Deporting illegal workers is seen as a relatively easy way of doing this. Migrant workers have few, if any rights and no means of representation in Saudi Arabia. Many are forced to give up their passports upon arrival, leaving them entirely at the mercy of their employers - often in conditions akin to slavery.
Last month, shocking footage emerged of one foreign worker's abuse at the hands of his Saudi employer, shining the spotlight on the horrific conditions which many migrant workers are forced to endure.
A recent report by rights group Amnesty International leveled harsh criticism of the Saudi government's human rights record, including its treatment of migrant workers. The report noted that migrants are often subjected to serious abuse, including a sometimes deadly tendency towards an "excessive use of force", by authorities.