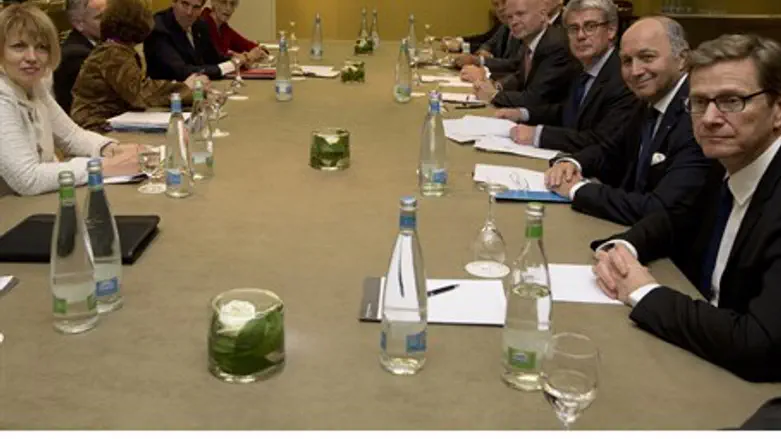 Foreign ministers during nuclear talks with I
Reuters
Talks in Geneva between representatives of Iran and the so-called P5+1 ended on Saturday night with no agreement.
It was reported earlier that the sides had convened for another late night meeting in an attempt to reach an agreement on Iran's nuclear program. That meeting, however, ended with no results.
"From the start, France wanted an agreement to the important question of Iran's nuclear program," French Foreign Minister Laurent Fabius was quoted by Russia Today (RT) as having told reporters after the meeting.
"The Geneva meeting allowed us to advance, but we were not able to conclude because there are still some questions to be addressed," he added.
Earlier on Saturday, Fabius warned his colleagues not to be fooled by Iran's proposals saying that while "the initial text [of the proposal] made progress," there were still a couple of unsatisfying points.
Those comments, which are similar to concerns Israel has expressed over the agreement, caused Iranian officials to slam Fabius, claiming his views "express the positions of the Zionist regime."
The latest round of talks began on Thursday with U.S. Secretary of State John Kerry and Russian Foreign Minister Sergey Lavrov unexpectedly arriving to join the high-profile negotiations on Friday and Saturday respectively.
Although the talks brought no immediate results, the diplomats are ready to get back to the negotiating table within a few weeks, Reuters reports.
The talks are set to resume in Geneva on November 20.
Speaking to reporters after Saturday night's meeting, Kerry said that world powers had come closer to a deal and that "with good work" the goal could be reached.
"We came to Geneva to narrow the differences and I can tell you without any exaggeration we not only narrowed the differences and clarified those that remain, but we made significant progress in working through the approaches to this question of how one reins in a program and guarantees its peaceful nature," Kerry said.
Zarif said he was not disappointed with the outcome, and that the talks were "something we can build on."
He added that all parties were "on the same wavelength" and "there was the impetus to reach an agreement."
On Friday, Prime Minister Binyamin Netanyahu warned Kerry that he was offering Iran "the deal of the century".
"This is a very bad deal. Israel utterly rejects it," Netanyahu said, vowing that Israel would not be bound by any agreement.
The U.S. responded to Netanyahu's concern by saying the criticism was premature, as no deal has yet been reached.