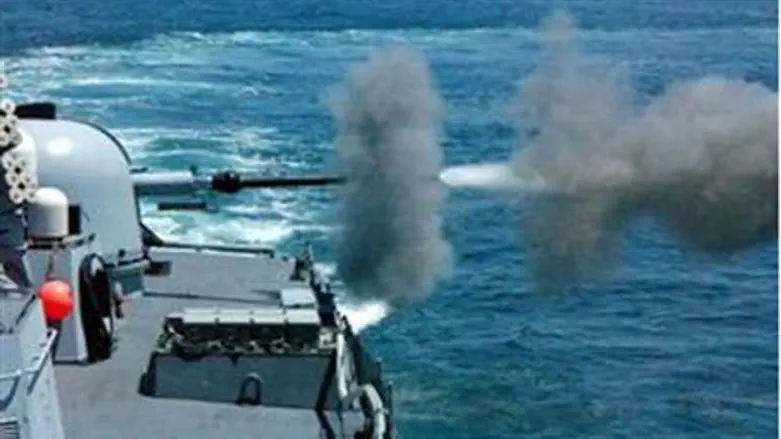 Illustration: warship
Israel news photo: IDF Spokesperson's Office
The American aircraft carrier USS Nimitz was recalled from the Persian Gulf on Friday, along with the destroyer USS Graveley from the Mediterranean Sea. The move comes less than a week after Russia sent its most powerful warships to the Mediterranean.
Al Jazeera reports the Nimitz moved through the Suez Canal into the Red Sea, and is anticipated to reach the US in late December. It was scheduled to return in August but was left in the region for a military presence.
The US ships were assigned to the region months ago as US President Barack Obama considered a military strike on Syrian President Bashar Assad's regime. On Friday the US Defense Department announced their removal, signalling the Obama administration's total abandonment of a Syrian military option.
The move further signals a weakening of US military presence in the Middle East, precisely as Russia stands to heighten its influence.
Following cooling American relations with both Egypt and Saudi Arabia, Russian President Vladimir Putin is set to visit Egypt later this month, which many see as an attempt to replace America's role as military provider to the country. America partially froze military aid to Egypt after former President Mohammed Morsi was deposed.
Putin is expected to announce an arms deal during his visit, which coincides with earlier reports of a 15 billion dollar arms deal in the works for Egypt, partially funded by Saudi Arabia.
US Navy presence in the Middle East was increased following the chemical weapon strike on Damascus August 21. After deliberating a military reaction, Obama announced on August 31 that he would ask for approval first from Congress, where the move met opposition.
Still in the region for America are the USS Harry S Truman aircraft carrier in the North Arabian Sea, along with two destroyers and a cruiser in the eastern Mediterranean, according to Al Jazeera.