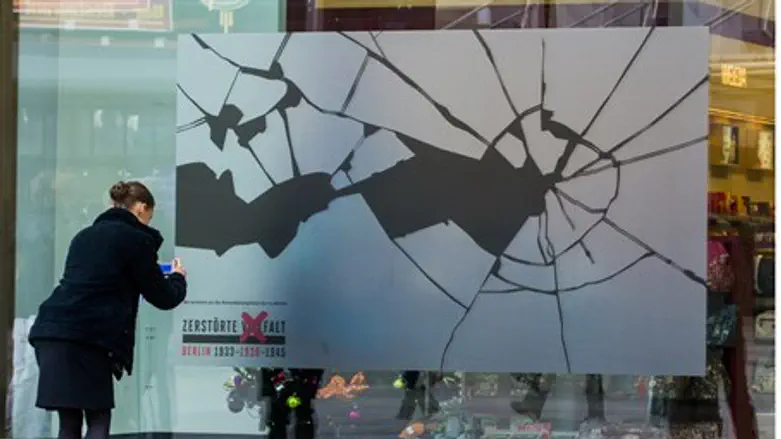 Woman affixes sticker to shop window as part
Reuters
Germany on Saturday began marking the 75thanniversary of the Nazi pogrom Kristallnacht with solemn ceremonies andtouching and innovative tributes to the victims.   
Rather than conducting one central memorial event, Germany this year isseeing smaller commemorations throughout the weekend including striking artprojects, Twitter initiatives and silent vigils.   
The attacks of November 9 and 10, 1938, saw Nazi thugs plunder Jewishbusinesses throughout Germany, torch synagogues and round up about 30,000Jewish men for deportation to concentration camps.   
At least 90 Jews were killed in the orgy of violence, also known as 'TheNight of Broken Glass', which historians say ushered in the start of theNazis' drive to wipe out European Jewry.   
As part of the unconventional memorials, Berliners and tourists during theday polished around 5,000 "Stolpersteine" memorials for Jews in theirneighbourhoods.   
The "stumbling blocks" are small plaques bearing the names of Holocaustvictims embedded in the street in front of their last known address, alongwith their dates of birth and facts about their deportation.   
"It's sad for me, very, very sad," said Tamar Maier, an Israeli whosefamily fled Vienna after their business was smashed during Kristallnacht, asshe cleaned one of the plaques.   
"I think of all these people, who didn't know what was happening... It'ssimply horrible. And that's why it's very important to remember, it'sessential to do so."   
City magazines have printed advertisements for the campaign, complete withan attached cleaning cloth for volunteers.   
Meanwhile around 120 retailers in Berlin have affixed adhesive film totheir shop windows depicting the jagged pattern of broken glass to commemorate the destruction levelled against Jewish merchants.   
The stickers were concentrated in areas of central Berlin that weretargeted by the Nazi looters in 1938, with participants including Germany'smost famous department store KaDeWe.   
President Joachim Gauck paid his respects at a synagogue in the easterncity of Eberswalde near Berlin which was destroyed in the rampage, and wherethere is now a memorial made from the building's rediscovered foundations andfreshly planted trees.   
He was due to travel to nearby Frankfurt an der Oder, where he was to speak ahead of a memorial concert.    
On Friday, the President paid a visit to a former workshop whose owner fought to save his Jewish staff from deportation.
Otto Weidt, whose workshop is now a museum in central Berlin, manufactured brushes and brooms, and his business was staffed mostly by deaf and blind Jews.
The president described Weidt's workshop as an "islet of humanity" showing there was always a choice even in difficult times to do good and follow one's conscience.
Weidt provided false papers or hid his Jewish staff from the Nazis.
Churches in Berlin have planned a silent march to the site of an obliterated synagogue in the city centre in which Mayor Klaus Wowereit was due to take part.    
'Honest, emotional concern' 
The head of the Central Council of Jews in Germany, Dieter Graumann, hadcalled for "honest, emotional concern" on the part of Germans on theanniversary and urged continued vigilance against hatred. 
"The lesson that we must draw is as simple as it is clear: never again willwe allow ourselves to be attacked because of our Judaism. Never again will weallow ourselves to be intimidated," he told Saturday's Neue OsnabrueckerZeitung.   
Among some of the more unconventional forms of remembrance this year is aTwitter account, @9Nov38, launched by historian Moritz Hoffmann last month andcalled "Heute vor 75 Jahren" (75 Years Ago Today), offers historical accountsof the repressive measures.   
"Sunrise in Kassel. Few people on the street, but a lot of glass shards anddestroyed furnishings in front of more than 20 shops," read one tweet.   
The account has already attracted more than 4,200 followers, withorganisers saying they hope to reach a younger generation of Germans byharnessing social media.   
Against the backdrop of the commemorations, a report by the EU FundamentalRights Agency (FRA) on Friday showed that anti-Semitism has deepened acrossEurope over the past five years, facilitated by social media and file-sharingwebsites.   
Last week Chancellor Angela Merkel urged Germans to be watchful for thedangers of anti-Semitism, calling Kristallnacht "one of the darkest moments inGerman history".   
While she hailed the flourishing Jewish community in Germany now numberingmore than 200,000 people, she lamented "the reality that no Jewish institutioncan be left without police protection" due to ongoing concerns over anti-Semitism.   
In Austria, where Jews were also targeted in the wake of the Germanannexation, President Heinz Fischer was to speak Sunday during ceremoniesorganised by the Jewish community.   
And in Warsaw, a thousand people chanting "No to fascism and nationalism"and "Holocaust, never again" marched on Saturday to the spot from where theJews of the Warsaw ghetto were deported to concentration camps.