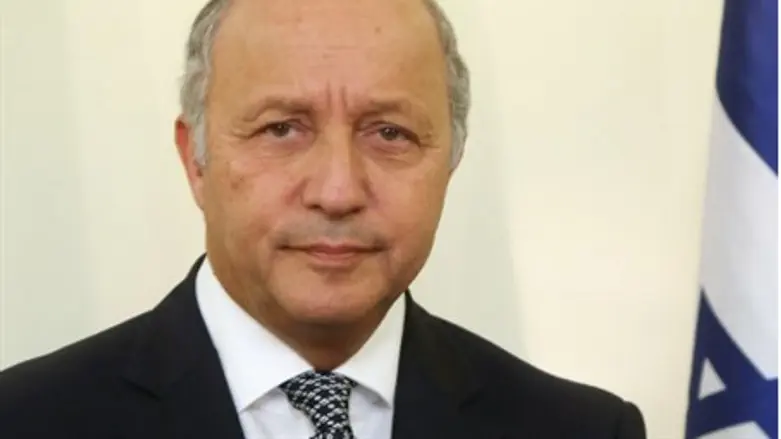 French Foreign Minister Laurent Fabius
Flash 90
Amid the ongoing negotiations over Iran's nuclear program, two senior Iranian MPs Saturday claimed French Foreign Minister Laurent Fabius is defending Israel. The French FM has expressed concerns that Israel has raised over the proposals.
Fabius traveled to Geneva Friday where the talks between Iran and six world powers (P5+1) are being held.
He arrived the same day as US Secretary of State John Kerry, who made the trip to Geneva for three-way meetings with Iranian Foreign Minister Mohammad Javad Zarif and EU foreign policy chief Catherine Ashton.
AFP reports Saturday Fabius said "there is an initial draft that we do not accept... As we speak, I have no certainty that we can finish up."
Fabius added further that "there are some points on which we are not satisfied," citing the "extremely prolific" Arak nuclear reactor and the question of uranium enrichment. He also expressed concerns over Iran's stockpile of 20 percent enriched uranium.
Iran's spokesman of the parliamentary foreign affairs committee, Hossein Naqavi Hosseini, strongly attacked the French PM, saying "the behaviour of the French representative in the nuclear talks shows that France is trying to blackmail" Iran.
Hosseini's colleague Esmaeel Kosari echoed his sentiment, saying Fabius's comments "express the positions of the Zionist regime [Israel], which prompts us to eye the talks with pessimism."
Meanwhile Iranian FM Zarif said Saturday "we have reached an agreement on some questions, but on others there are still disagreements.... There are differences of opinion within the P5+1 group."
Prime Minister Binyamin Netanyahu strongly rejected the proposed arrangements in a meeting with Kerry on Friday, saying that they let Iran off the hook. Netanyahu added that Israel is not obliged by any agreements that will be reached in Geneva and reserves the right to defend its security.
The US responded to Netanyahu's concern by saying the criticism was premature, as no deal has yet been reached.