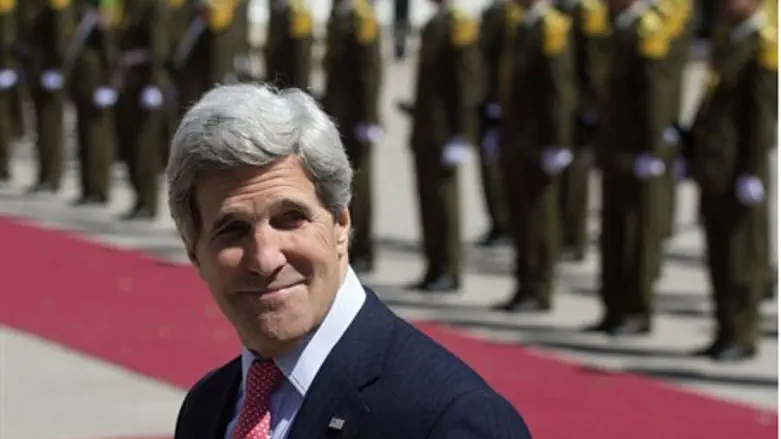 John Kerry
AFP photo
US Secretary of State John Kerry is travelling to Geneva Friday for three-way talks on Iran's nuclear program with Iranian Foreign Minister Mohammad Javad Zarif and EU foreign policy chief Catherine Ashton according to the AFP.
The ongoing talks, conducted by six global powers (G5+1), appear to be reaching an imminent deal which is feared to relieve sanctions on the Iranian regime in exchange for a token partial freezing of the country's nuclear program.
Agreements appear to be approaching, as Thursday Zarif closed the first day of talks saying a deal could be reached Friday. US President Barak Obama reflected the conciliatory stance, saying a deal with Iran was better than a confrontation.
Ashton's involvement in the negotiations is also seen as troubling, since she has displayed antagonism towards Israel in the past.
In 2012 Ashton joined Arab olive pickers on land which is in Area C, the Judea and Samaria territory that is under Israeli military and administrative control according to agreements between Israel and the Palestinian Authority (PA). The controversial move was seen by many as supporting the ongoing incitement campaign against Israel in the international media by the PA, which preys on the ignorance of Western journalists to claim that normal olive harvesting techniques are incidents of anti-Arab vandalism. 
In late October Ashton, also called on the PA-based Fatah and Hamas factions to reconcile so as to hasten the "two state solution" creating a Palestinian state in Judea and Samaria.
Iran for its part is anxious to have the economic sanctions lifted on it. AFP reports that the sanctions have cut oil revenues by more than half, caused the state currency, the rial, to plunge, and pushed inflation over 40%.
Prime Minister Binyamin Netanyahu strongly rejected the proposals in a meeting with Kerry right before his departure for Geneva. Netanyahu said Israel "utterly rejects" the deal which gives Iran all it wants and requires mere token gestures from it.
The Israeli PM warned Thursday that a deal with Iran is shaping up to be a mistake of "historic proportions," while on Wednesday he warned Kerry directly that the recent "death to America" day held in Iran showed the regime's true face. 
Many are concerned over the proposals, as just this Thursday Defense Minister Moshe Ya'alon said the Iranian nuclear threat is Israel's greatest security challenge.