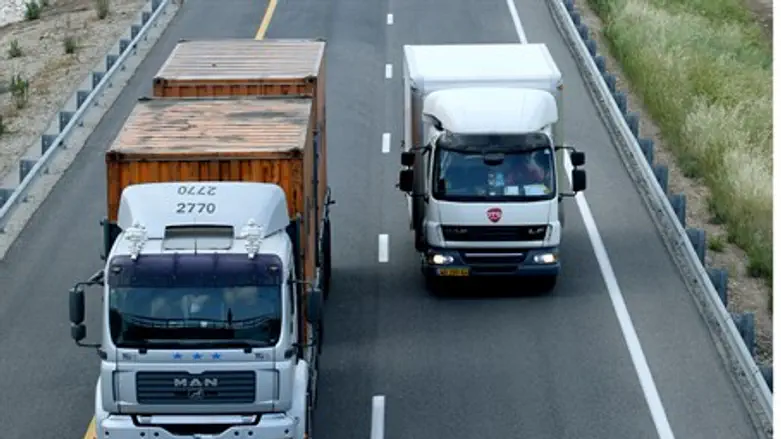 Cargo trucks (file)
Flash 90
A cargo truck carrying 12,000 rocket heads was seized Thursday by Turkish authorities in the southern Turkish city of Adana near the Syrian border.
The Hurriyet Daily News reports that along with the rocket heads were found bazookas, missiles, bombs and guns.
Police discovered the weapons cargo after pursuing the truck, initially suspecting it of carrying drugs. Anti-terror teams escorted the truck to a police station to be unloaded and have an inventory of its cargo taken.
A Turkish official, Gov. Huseyin Avni Cos, revealed that the weapons arsenal was thought to be "going to some organizations or states" outside Turkey.
While he did not name specifics, some speculate that the weapons were bound for rebel forces in Syria.
The military Kurdistan Workers Party (PKK) has accused Turkey of providing military aid to Islamist rebels who are fighting Kurdish forces in northern Syria. Even if aid is not directly coming from Turkey, some accuse Turkish Prime Minister Recep Tayyip Erdogan of turning a blind eye to military shipments.
As a result of the situation, in late October the acting leader of the PKK threatened to launch a military offensive against Turkey in Turkish- and Syrian-occupied Kurdistan.
Further igniting tensions is the stalled peace process between Turkey and the PKK around Kurdish rights to Turkish-occupied Kurdistan.
The 30 year Turkish-Kurdish conflict has left 40,000 dead, and consequently the PKK has been placed by Turkey, the US and the EU on their list of banned terrorist groups.
Turkish President Abdullah Gul said Sunday that Syria risks turning into another Afghanistan, noting that if the war spread to Turkey his government would respond militarily "in the strongest way possible."
A spillover of the Syrian conflict into Turkey has been a longstanding concern, as many of the rebels fighting against Syrian President Bashar Assad have reportedly used Turkey as a staging ground.
In October Turkey fired on Al Qaeda-linked rebels in northern Syria after a stray mortar shell fell in Turkish territory, while in September Turkey shot down a Syrian helicopter it says infiltrated its airspace.
The Syrian conflict, now in its third year, has killed over 100,000 people.