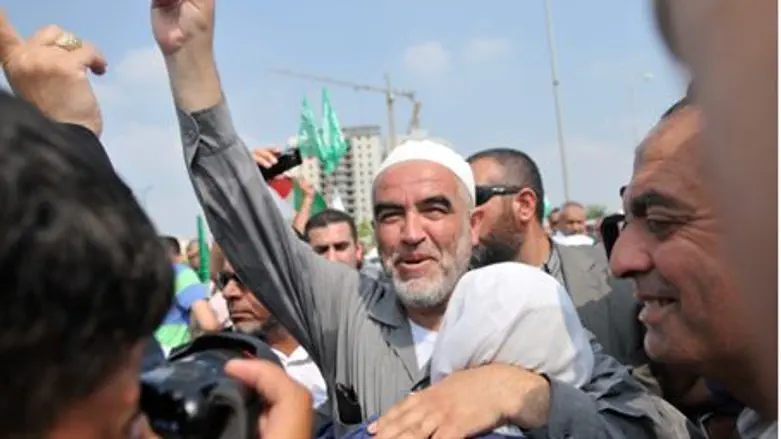 Sheikh Raed Salah
Israel news photo: Flash 90
The Jerusalem Magistrate's Court has convicted Sheikh Raed Salah of incitement. Salah, who heads the northern branch of the extremist Islamic Movement, currently faces other charges of incitement, as well.
The conviction relates to a speech Salah made in Jerusalem on February 16, 2007. Speaking to a crowd in the Wadi Joz neighborhood, Salah said that children's blood has never been used to prepare the food eaten at meals to break the Ramadan fast.
In contrast, he accused, "some of the children of Europe, their blood was mixed into the dough of the holy bread."
State prosecutors accused Salah of incitement to racism – specifically, anti-Semitism – arguing that his statements were a clear reference to historic blood libels accusing Jews of using Christian children's blood to prepare matzah, the unleavened bread eaten on the Passover holiday.
Salah claimed that he had not been referring to Jews at all, but rather, to Catholics.
Judge Hannah Miriam Lomp cleared Salah of the "incitement to racism" charge, but convicted him of inciting violence. The phrases he used when calling on the crowd to "resist" made it clear that he was not talking about non-violent resistance, she said.
However, she said, it cannot be proven that the Arab rioting that broke out in the area a short time after Salah spoke was a result of his speech.
Salah was arrested for incitement in September over a call to his followers in which he instructed them to physically prevent Jews from visiting the Temple Mount in Jerusalem – Judaism's holiest site, and the site of the Al-Aqsa Mosque. Shortly after he called on followers to stop Jews "with your bodies," Muslim men began attacking Jewish visitors at the Temple Mount with stones.
Last year Salah labeled Israeli leaders "terrorists" and "enemies of Allah" in a speech to Muslims in Be'er Sheva, in southern Israel.
The Islamic Movement which Salah heads does not recognize Israel, which it refers to as "Palestine." The movement is permitted in Israel, which even funds some Islamic Movement schools, but has been banned in Jordan as dangerously radical.