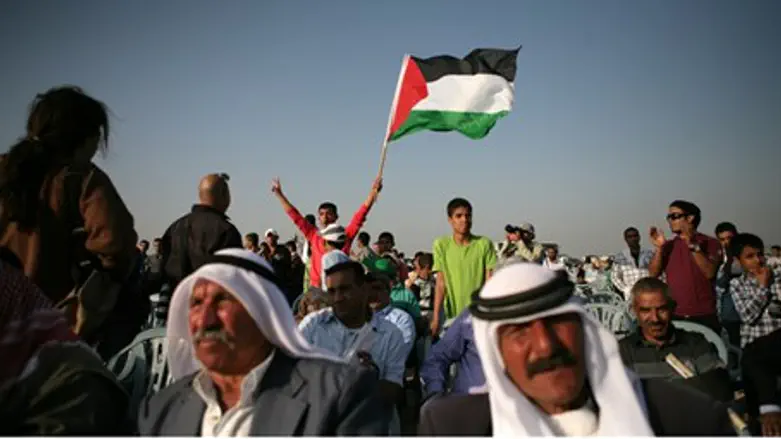 Bedouin rally in Negev (file)
Israel news photo: Flash 90
NGO Monitor published today (Wednesday) its report entitled "NGOs and the Negev Bedouin Issue in the Context of Political Warfare," in which it documents the foreign-backed NGO support for illegal land grabs by Bedouin Arabs in the Negev.
The Jerusalem-based watchdog group's report analyzes NGO activity between 2010 and 2013. NGOs under examination included the Negev Coexistence Forum, Adalah, the Association for Civil Rights in Israel, Bimkom, Rabbis for Human Rights, and Human Rights Watch.
The study found that the various organizations involved in the campaign are largely funded by the far-left New Israel Fund (NIF), the European Union, and European governments.
The NGOs display an anti-Zionist ideology in falsely labeling Bedouin in the Negev as "indigenous," and supporting land ownership claims which have been rejected by the courts.
Furthermore the groups accuse Israel of "discrimination" and "human rights violations," claims the groups says do not stand up to scrutiny.
NGO Watch President Gerald Steinberg summarized the results, asserting that "by promoting a false narrative and conducting one-sided lobbying at the European Union, the United Nations, and elsewhere, the NGO network contributes significantly to the demonization and delegitimization of Israel."
In early 2012 pressure from groups such as the NGOs listed hampered the Jewish National Fund (JNF) in its Negev forestation project, a project which could have prevented illegal Bedouin takeover of national land.
The new report comes on the heels of increasing documented evidence of European diplomats actively participating in Palestinian Authority incitement against Israel.
One of the most blatant examples came in September when a French diplomat struck an Israeli soldier while trying to deliver tents to an illegal Bedouin encampment. The incident brought focus on the European aid for illegal Bedouin land grabs.
NGO Monitor presented another report in June showing how European Union-funded radical NGOs are seriously harming Israeli interests.