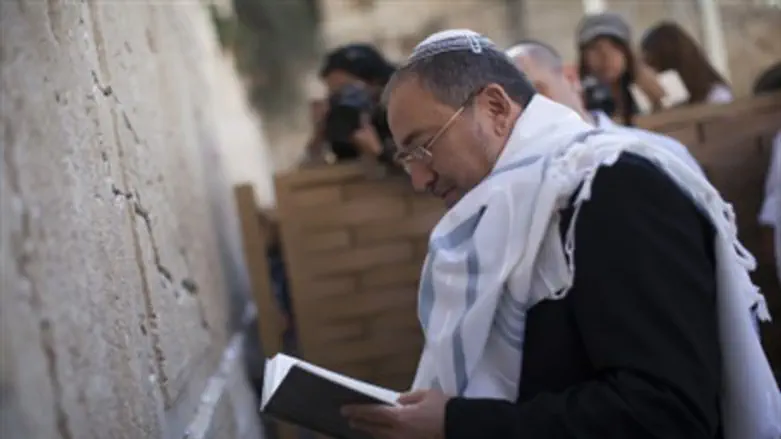 Lieberman at Kotel after acquittal
Israel news photo: Flash 90
A three-judge panel unanimously acquitted former foreign minister Avigdor Lieberman of the charges against him Wednesday morning. The verdict means he can return to serve as foreign minister but the state is expected to appeal it.
"Seventeen years are over, it's behind me," Lieberman told reporters after the verdict. "I want to thank my family and friends who truly stood by me in all of those 17 years and gave me the support. I want to thank the defense team that did an amazing job, extraordinary."
"I do not intend to deal with this issue anymore," he added. "This chapter is behind me, and I am focusing on the challenges that are already facing us."
He went from the court to the Western Wall (Kotel), where he put on a tallit prayer shawl and prayed.
The political establishment in Israel tensely awaited the decision by the Jerusalem Magistrates' Court Wednesday in the trial of MK Lieberman, head of Yisrael Beytenu and former foreign minister. The panel, headed by Deputy Court President Hagit Mak-Kalmanovich, delivered the verdict at about 9:00 AM.
Lieberman was on trial for fraud and breach of trust in the matter of the appointment of Ze'ev Ben Aryeh as ambassador to Latvia. The ambassador testified that he had transferred secret information to Lieberman, regarding an investigation against him in another matter. The court found that Lieberman was not aware of the serious nature of this transfer of information and that while he should have reported it, his failure to do so was not criminal.
Lieberman quit his position as foreign minister when he was formally charged, and was appointed Chairman of the Knesset's Foreign Affairs and Defense Committee. The position of Foreign Minister has been left unmanned since then, so that Lieberman could return to it after his sentencing, if acquitted.
Lieberman could possibly have returned to the position according to Israeli law, even if he were found guilty, as long as the judges did not convict him of an offense that is defined as involving "moral turpitude" (kalon in Hebrew).
Lieberman has been a target of investigation by the State Attorney's Office for about 17 years, causing many to see him as a victim of political persecution by the state's legal system. Suspicions against him have come and gone, he has been questioned by police, and so have his relatives – but nothing "stuck" until last year, when charges were finally filed in the matter of Ben Aryeh.
One of the witnesses who testified against Lieberman was his former deputy, Danny Ayalon. Ayalon told the court that Lieberman had expressed preference for Ben Aryeh when the tender for ambassador was issued. This alleged fact, combined with Ben Aryeh's admission that he had leaked information about another investigation to Lieberman, were enough for the State Attorney to charge Lieberman with criminal behavior.
The judges found "problems" with Ayalon's testimony, which was given after Lieberman fired him as deputy minister.
Lieberman is the most prominent politician in the so-called "Russian" sector, of Israelis who immigrated from the former Soviet Union. His party, Yisrael Beytenu, merged with Likud in the lead-up to the last elections.