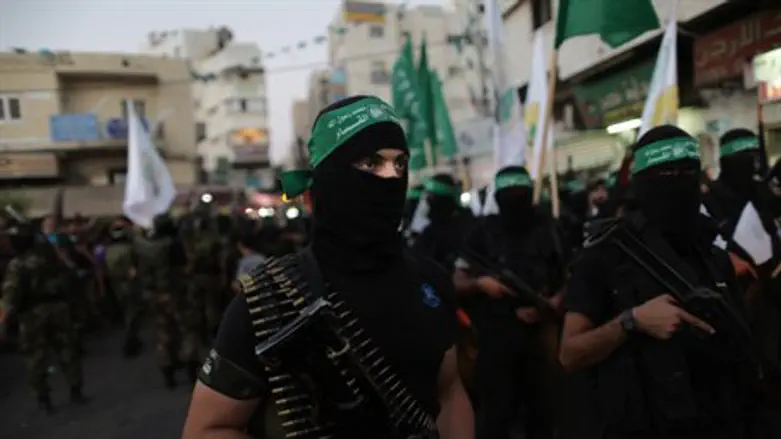 Hamas terrorists in Gaza
Flash 90
The Hamas government in Gaza appointed a woman as its first English-language spokeswoman on Sunday, reports the Bethlehem-based Ma'an news agency.
The new female spokesperson is Israa Al-Mudallal, 23, a journalist who spent years as a child in the United Kingdom. She was quoted by Ma'an as having said in an interview that she would "address Western and Israeli media" and would "work to change media discourse, painting a different picture of Palestine and Gaza."
"The Western media has begun to realize that the Israeli media falsifies the facts, and so we have to make a great effort to debunk Israeli falsehoods," she claimed.
Al-Mudallal previously worked at the al-Kitab television station, and studied journalism and media at the Islamic University of Gaza, according to Ma'an. She also had a stint at Press TV, the English-language arm of Iran's state media.
She credits her studies in journalism as well as her time in Britain as a child for helping her "to understand Western culture."
She attended primary school in the city of Bradford in the United Kingdom, while her father was completing his higher education there. Her father is now a professor of political science and history at the Islamic University in Gaza.
According to Ma'an, her appointment comes as part of a broader effort on the part of the Gaza government to strengthen its approach to public relations and to explaining its message to an audience that is not Palestinian Authority Arab.
Ihab al-Ghosein, head of the Gaza government's media relations bureau, said that the move "comes within the framework of the development of Palestinian dialogue with the West, and to find speakers of foreign languages to explain the government's views and the Palestinian issue to the West."
"It also falls within the framework of strengthening and emphasizing the role of Palestinian women in serving the Palestinian issue, especially after proving their ability in other fields, such as in ministries and government institutions," he was quoted by the Al-Sharq Al-Awsat newspaper as saying.
Ma'an reported that women have long been active in the Hamas movement, and in addition to the Hamas-led government's sole female minister, Jamilla Al Shanti, there are numerous women in leadership positions in various departments, ministries, and in parliament.
Despite Ma'an's claims on the status of women in Gaza, Al-Mudallal's appointment might come as a surprise to some. This is because Hamas has enforced a stringent interpretation of Islamic law in Gaza since violently taking power there in 2007.
The group has banned women and teenagers from smoking hookahs in public, ordered that women's clothing stores are not allowed to have dressing rooms, men cannot have hairdressing salons for women and that mannequins shaped like women must be dressed in modest clothing.
The group also introduced a strict dress code for female university students, demanding that they wear "modest clothing".
Last year the Hamas government banned residents of Gaza from participating in the national reality singing show "New Star", which follows the same format as popular U.S. shows "American Idol" and "The X-Factor."
Hamas claimed the program was "indecent," adding it contradicts the customs and traditions of the Gaza community.