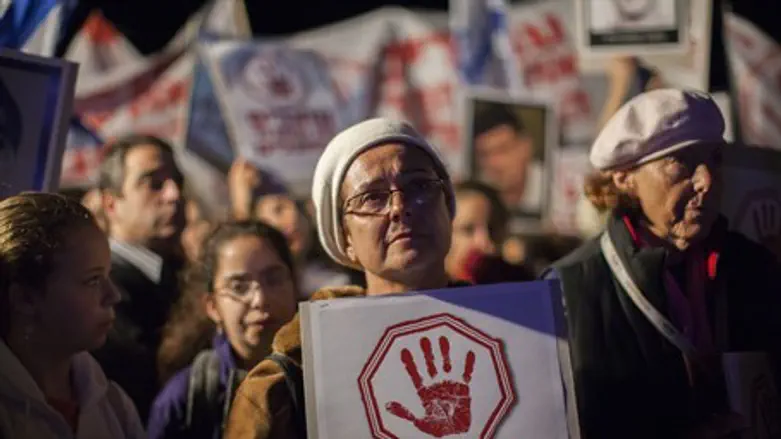 Protester at last night's demonstration again
Flash 90
The anti-terror and victim advocacy group Almagor - who recently launched a massive last-ditch effort to prevent last week's release of 26 convicted Palestinian Arab terrorists to Judea, Samaria, and Gaza - is reportedly appealing to US Secretary General John Kerry this week to stop pushing for terrorist releases as preconditions for negotiations. The group will also protest Kerry's refusal to meet with terror victims' families, who have been most affected by last week's release. 
Tonight (Tuesday), at 6PM, a delegation of Almagor representatives and bereaved families will send a written message to Kerry via the front desk of Jerusalem's David Citadel Hotel, where the Secretary General is reported to be staying. The letter will protest the hypocrisy of US officials for exerting intense political pressure on Israel to release Palestinian Arab terrorists as a precondition for negotiations with Mahmoud Abbas - then refusing to meet with bereaved families to discuss the move and its impact on Israeli security and society. Almagor will then set up a press conference there for the press to record Kerry's response. 
Front of the David Citadel Hotel, where protests are due to take place Google Maps
Map: David Citadel Hotel Google Maps
Those present will include Almagor director Meir Indor  who spearheaded legal efforts to prevent the release; two representatives from the bereaved families of Ronen Karmani and Lior Tubol, 17 year-old boys who were kidnapped and brutally murdered on August 22, 1990 by Arab terrorists; and Yitzchak Maoz, whose daughter Tehila, 18, was murdered in the 2001 Sbarro's massacre in Jerusalem. 
Protests will continue against US pressure on Israel to release terrorists tomorrow (Wednesday) at 3PM in front of the hotel on behalf of the bereaved families and in the interests of maintaining Israel's safety and security. 
Almagor has featured prominently in headlines recently for their efforts to prevent the release of convicted Palestinian Arab murderers as "goodwill gestures" to the Palestinian Authority. Another recent campaign by the group saw an initiative to convince officials at Haifa University to prevent their legal officials from providing legal assistance to Arab terrorists, following an expose published by the Im Tirzu student organization.