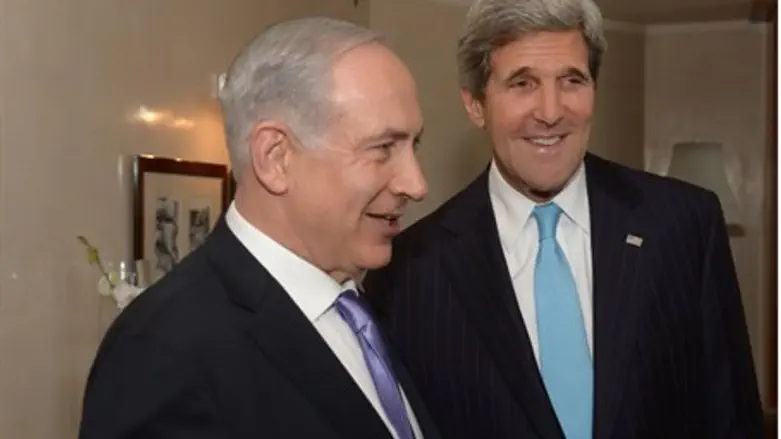 Netanyahu and Kerry meet in Jerusalem
Amos Ben Gershom/GPO/Flash 90
The United States intends to try and force a peace agreement on Israel and the Palestinian Authority (PA), IDF Radio reported Monday.
The radio station says the US has informed Israel and the Palestinian Authority that if negotiations between them do not advance, Washington will propose its own solution, that will include a US position on every point that is in contention. In effect, according to the report, this will be an attempt to force the sides to agree on a solution formulated by the US.
MK Zehava Galon (Meretz) was quoted as saying Monday that senior US officials told her the US offer would be presented in January of 2014. PA sources also cited January as the month in which the US intends to propose, or impose, its plan.
The US moves comes after three months of talks between the sides which have reportedly made very little headway.
The US plan reportedly is similar to the Clinton outline, offered by President Bill Clinton in late 2000, which is based on an Israeli retreat to 1949 Armistice lines, and some swaps of territory.
The Obama Administration is reportedly determined to achieve "a diplomatic breakthrough" by mid-2014, and believes that Israel under Binyamin Netanyahu and the PA under Mahmoud Abbas are capable of reaching agreement.
Until now, the talks were based on the idea that the two sides negotiate directly, with the US only acting as a mediator.
The American decision to present a proposed agreement was reportedly communicated by several senior officials, including the Special Representative to the talks, Martin Indyk. Secretary of State John Kerry reportedly briefed Netanyahu on the matter when they last met, in Italy.
IDF Radio is run by the Israeli military and partially staffed by soldiers but is considered to be a mainstream news outlet that is not substantially different from mainstream civilian outlets.