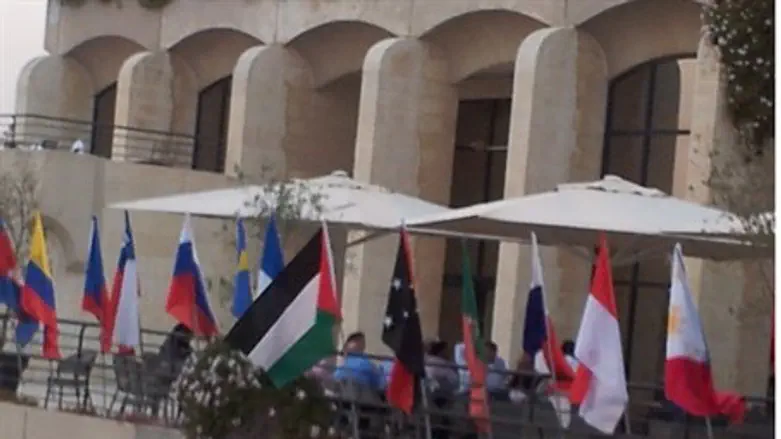 The PA flag outside the Dan Panorama Hotel in
Photo: Anonymous
Visitors at the Dan Panorama Hotel (formerly the Hyatt) in Jerusalem recently were greeted by a strange sight: A Palestinian Authority (PA) flag waving alongside the flags of European countries and the U.S.
Curious visitors inquired at the desk as to the meaning of the flag's presence – almost unheard of in a Jerusalem hotel that caters to Jews and Israelis. The inquirers were told that, as is the custom, the flags of nations and groups that are holding an event at the hotel are flown, as a welcome to attendees. The PA flag was there, hotel staff said, because an event involving them was taking place at the hotel.
When asked what that event was, the staff said that it was "a secret," and they were not permitted to divulge it.
Speaking with Arutz Sheva, one guest said that she considered checking out of the hotel after hearing this. She changed her mind, however, believing that her leaving in protest would probably have no effect on the hotel's policies. Other guest echoed her comments, while one man said that he did not leave or protest because "we have gotten used to seeing our enemy's flag and remaining quiet."
Another guest, who did protest, said that "it is unthinkable that during these times, when the Palestinians are fighting us in every way possible, from stoning cars to firebombs to terror attacks, that we would allow their flag to fly in Jerusalem, as if we were flying the flag of a friendly nation."
It should be noted that this is the same hotel where former Tourism Minister Rechav'am Ze'evi was murdered by an Arab terrorist in October 2001, although the hotel was under different management then.
Another guest, who snapped the photo of the flag, said that he took the picture on the same day that over two dozen terrorist murderers were released by Israel. "I would have expected at least some sensitivity, to take down the flag at least while the Arabs are celebrating the release of these murderers."
In response to an an inquiry by Arutz Sheva, the hotel's management said that "the event, and the placement of the flag, is the responsibility of the organization that arranged the event. The Dan hotel chain and the Dan Panorama Jerusalem have nothing to do with it, With that, we regret that some of our guests felt uncomfortable over the issue."