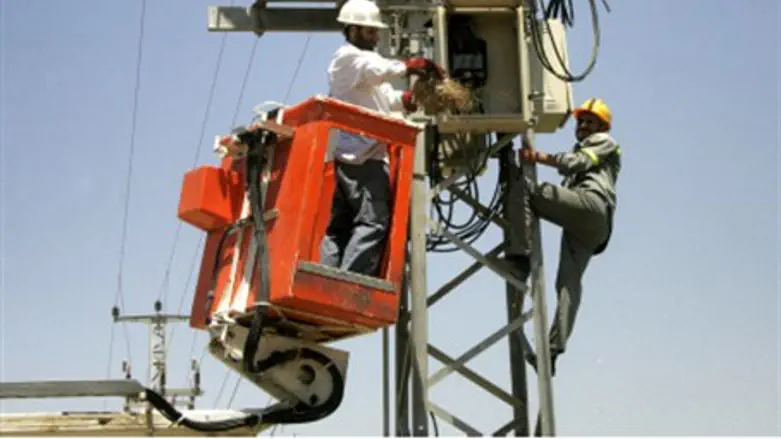 Gaza electricity workers.
Israel news photo: Flash 90
Gaza authorities have stopped all electricity production today (Friday) because of a severe fuel shortage. 
"We have completely stopped the operation of (Gaza's sole) power plant this morning at 6:00 AM," Fathi Sheikh Khalil, Hamas's deputy chairman stated. "We don't have a single litre of fuel." The plant supplies about 1/3 of the region's electricity. 
Khalil blamed the initial outage on IDF operations today, which killed 4 Hamas terrorists in response to an unprovoked attack on IDF forces. IDF forces had been in the midst of attempts to destroy a terrorist smuggling channel between Gaza and Israel this morning when Hamas detonated an explosive device, wounding 5 IDF soldiers. 
While IDF may have sparked the initial power disruption, Khalil primarily blames other regional Arab countries for the plant's longer-term problems. Israel provides for about half of Gaza's electricity needs, and Hamas relies on its neighbors to pick up the rest of tab, citing its own inability to run its own regional utilities. 
"We can no longer get fuel from Egypt due to the destruction of the tunnels from Egypt," Khalil claimed. Hamas has also tried to get fuel via the Palestinian Authority, but cannot due to "prohibitive taxes". 
Khalil has declared that Hamas's energy authority is shutting down the plant in an economic standoff, refusing to resume power until Egypt sends more fuel or until Israel lowers taxation for fuel sent via the Palestinian Authority. Hamas called on Egypt in September to resume energy supplies after relations between Gaza and Cairo stiffened in the wake of the ouster of extremist Muslim Brotherhood president Muhammed Morsi in July, when the country began cracking down on illegal fuel supply tunnels.