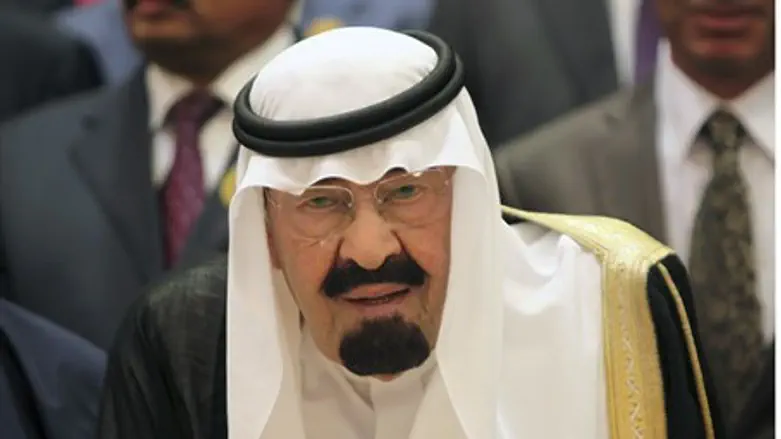 Saudi Arabia's King Abdullah
Reuters
Saudi Arabia has initiated a draft UN resolution that would strongly condemn "widespread and systematic gross violations of human rights" by the Syrian government and "any" abuses by anti-government armed groups, reports The Associated Press.
UN diplomats said the draft resolution, obtained on Wednesday by AP, is expected to be submitted to the human rights committee of the less powerful but much larger General Assembly by Friday's deadline.
The committee is expected to discuss it next week and vote on it in late November, according to the report.
If approved, it is virtually certain to be adopted by the 193-member General Assembly in December. However, unlike Security Council resolutions, General Assembly resolutions are not legally binding.
The draft resolution is highly critical of President Bashar Al-Assad's government, expressing "outrage" at the continuing escalation of violence that has killed more than 100,000 people since March 2011. It also expresses "alarm" at the regime's failure to protect its people.
The resolution blames Syrian authorities for a wide range of human rights abuses, including the indiscriminate use of ballistic missiles and cluster munitions; the killing and persecution of protesters, human rights defenders and journalists; attacks on schools and hospitals; and torture, sexual violence and rape in detention.
The draft strongly condemns the use of chemical weapons in Syria and "strongly points" to their use by the Syrian government in an August 21 poison gas attack that killed hundreds of civilians in the Damascus suburb of Al-Ghouta.
The draft also expresses "grave concern at the spread of extremism and extremist groups."
It strongly condemns all foreign fighters in Syria, singling out those fighting for the government, especially terrorist fighters from the Lebanon-based Hezbollah.
Saudi Arabia backs the rebels fighting to overthrow Assad and it has strongly criticized the Security Council's failure to resolve Syria's civil war and other conflicts.
A few weeks, the Saudi cited the Security Council's "double standards" as a reason for rejecting a seat on the UN's most powerful body.
Arab countries have appealed to Saudi Arabia to reverse its decision, saying it was crucial for the country to represent the Arab and Muslim world on the council "at this important and historical stage, specifically for the Middle East region."
Relations between Washington and Riyadh have reportedly been strained since the U.S. backed away from military action against Assad over the recent alleged chemical weapons attacks.
On Tuesday, Hezbollah chief Hassan Nasrallah accused Saudi Arabia of blocking a political solution to the conflict in Syria.
"Today, political dialogue and the search for a political solution are enjoying international, regional and interior support ... but there is a state in the region which is furious (about the proposed Geneva II peace conference), and its name is Saudi Arabia," Nasrallah charged.