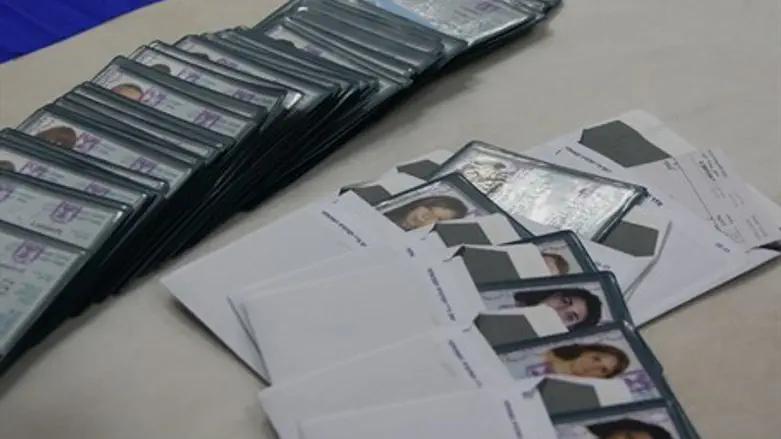 Israeli ID cards (Illustrative)
Flash90
The Kibbutz movement is holding a meeting this Sunday discussing the initiative to change the Nationality category on Israeli identification cards (Teudat Zehut) from "Jewish" to "Israeli". 
Dr. Hen Yehezkely, the son of writer Motke Yehezkely, claimed in a statement to Arutz 7 that Israel belongs to all of its citizens, not just Jews. "The question of identity has been advanced in a legal petition by the organization 'I am Israeli'," an organization which aims to orient the State's national identity around an Israeli national pride, not a specifically Jewish pride. "The Supreme Court has refused to make 'Israeli' a nationality," Yehezkely claims, "and we object to that."
Yehezkely called the move anti-Semitic, comparing it to the idea of "the US not being identified as 'American'" and claiming that the refusal constitutes the root "of all of Israel's tragedies" and that it "perpetuates the discrimination between us and the [Palestinian] Arabs."
In response, Kibbutz Movement member, former MK, and res. Colonel Moshe Peled stated that Motke Yehezkely would be horrified by his son's initiative, especially when announced during a memorial ceremony for him, just as he is "also sure that [murdered Prime Minister] Yitzhak Rabin would be embarrassed by what the extreme Left is doing on his memorial day."
Peled lamented the fact that the Kibbutz Movement has recently began to follow an extremist leftist agenda, saying that "they are delusional in trying to undermine the status State of Israel." He decried the abuse of the Israeli Supreme Court as a sounding board for the issue, and concluded that "our nationality in our state is Jewish, and it doesn't have to harm the status of Israeli citizens who are not Jewish."