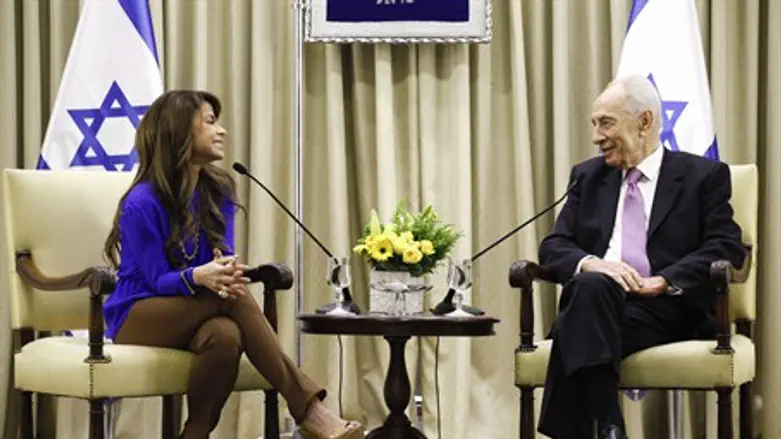 Paula Abdul meets President Peres
Flash 90
American singer and dancer Paula Abdul met Israeli President Shimon Peres on Tuesday morning on her maiden voyage to Israel, during which she plans to have a belated bat mitzvah at the Western Wall.
Abdul embraced Peres at the start of visit, which took place at the President's Residence in Jerusalem.
"I'm so overwhelmed with gratitude to be here, I've wanted to come for years," said Abdual. "My career took me many places and this is my first vacation in almost eight years that I'm actually here to sightsee like a regular tourist. My family was here and they were crying, overwhelmed with joy that I'm here. It's such an honor, I know already when I have to leave I won't want to."
During the meeting, the two discussed Israel and the country's achievements, as well as Peres' personal life and activities. Peres told Abdul "I am sure that wherever you go you will feel the warmth and love of the people of Israel, you will feel at home here."
As a parting gift Abdul received a bottle of olive oil harvested from the olive trees at the President's Residence.
During the remainder of her stay organized by the Ministry of Tourism, Abdul is expected to visit major tourist sites in the country, as well as meet Israelis in her fields of interest such as fashion, dance and music.