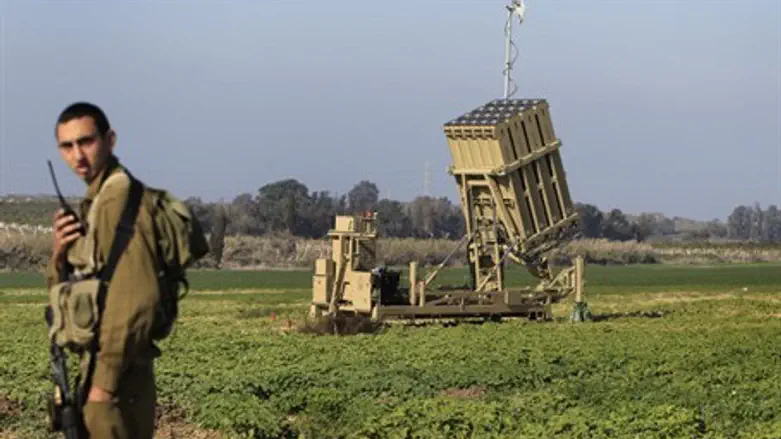 Iron Dome system
Israel news photo: Flash 90
The "Red Alert" siren was heard early Monday morning in the Hof Ashkelon Regional Council and in communities in the Gaza belt.
Residents reported hearing several explosions, as four rockets were fired by Gaza terrorists at southern Israel.
The Iron Dome anti-missile system intercepted one of the rockets, and the other three exploded in open areas. There were no physical injuries or damages.
Early Sunday afternoon, Gaza terrorists fired two mortar shells at the southern Negev. The shells exploded in the Eshkol region, but did not cause injury.
Last week terrorists from Hamas-controlled Gaza fired a mortar shell that hit the Eshkol region. Less than a week earlier, a projectile fired from Gaza hit southern Israel.
Recently, Hamas' "military wing" has admitted to being behind an attempted attack involving a "terror tunnel" leading from Gaza to an Israeli kibbutz. The group admitted that the tunnel was to be used to kidnap Israeli soldiers.
Israel suspended the transfer of construction supplies to Gaza through Israeli territory in response to the discovery of the tunnel.