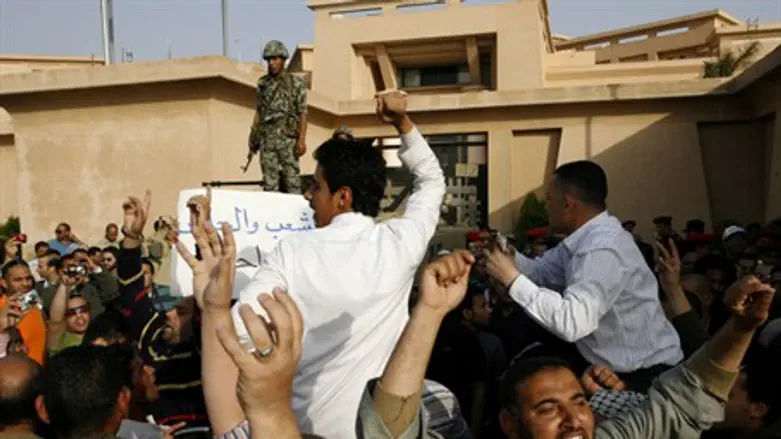 Riot at Israeli embassy in Cairo (archive)
Flash 90
The Israeli foreign ministry has named Middle East specialist Haim Koren as the Jewish state's next ambassador to Egypt, a spokesman told AFP on Sunday.
He did not say when the appointment take effect.
Koren, currently non-resident ambassador to South Sudan, is an Arabic-speaker and according to media has previously served as director of the ministry's political planning division and on the Cairo embassy staff.
Following July's ouster by the Egyptian military of Islamist president Mohammed Morsi, Israel decided to reduce its diplomatic presence in Cairo for security reasons.
As public disturbances have died down in recent weeks, Israeli diplomats have been returning to the Egyptian capital.
While in office, Morsi  repeatedly said he would continue to maintain the peace with Israel and uphold international documents signed by prior Cairo administrations, but mostly gave Israel the cold shoulder.
Last year, Morsi recalled the Egyptian ambassador to Israel in protest of Israel's counterterrorism Operation Pillar of Defense in Gaza. A month earlier, Egypt rejected an Israeli request to upgrade the relations between the countries, after the Jewish State expressed interest in expanding the cooperation between the two countries and raising it to a level of ministerial talks.
Morsi's ouster and his replacement with a military-backed regime has appeared to be a good opportunity to calm the tension between the countries. Israel's and Egypt's armies have had close cooperation with one another.
Tamarod, the Egyptian movement which led the opposition to Morsi, recently began collecting signatures to a new initiative calling to cancel the peace treaty signed between Egyptian President Anwar Sadat and Israeli Prime Minister Menachem Begin in 1979.
Tamarod's latest initiative came in the wake of what they called the "unacceptable U.S. interference in Egypt's political affairs." The members of the group are demanding that the Israel-Egypt treaty be put to a referendum.
The opposition movement is arguing that the agreements with Israel prevent Egypt from deploying large-scale military forces to the Sinai Peninsula which has been rampant with terrorists.
In 2011, during the unrest that gripped Egypt in the aftermath of the ouster of Hosni Mubarak,the Israeli embassy in Cairo was attacked by and ransacked by rioters.