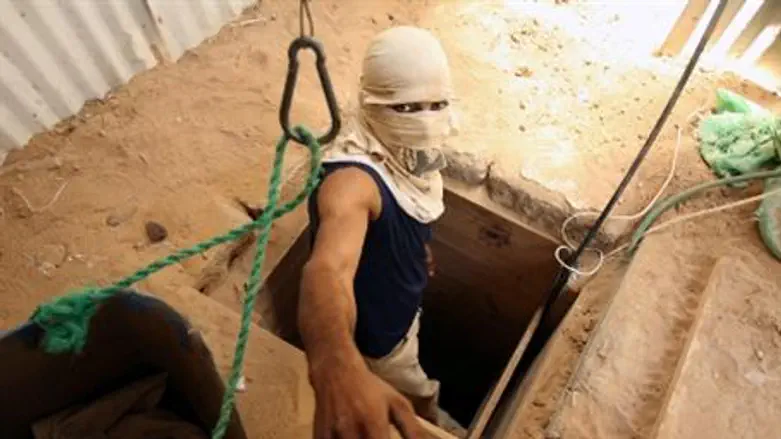 Terrorist and tunnel
Israel news photo: Flash 90
The Hamas terrorist government in Gaza said Sunday that Egypt's closure of the tunnels that are used to smuggle goods into Gaza from Sinai is causing severe damage to Gaza's economy.
The Hamas government's Economics Ministry said that severe damage has been caused to the industry, trade, agriculture, transport and construction sectors in Gaza. The damage is estimated at $230 million per month, because Gaza's economy is largely dependent on the tunnels, through which at least 40% of the goods consumed by Gazans – from foodstuffs to raw materials – had passed.
The Undersecretary for Economy, Hatem Awaida, warned in an interview program called "A Meeting with a Senior Official" that unemployment could reach 2008 levels. He cited estimates that if the official border crossings remain closed and tunnels continue to be destroyed, unemployment would reach 43%.
Awaida said that growth has been reduced to 3% and inflation has increased, due to "security steps" taken by Israel and transport costs. He added that the volume of exports decreased after the tunnels were closed and "the siege was tightened" in the second half of 2013, and that this could have a negative impact on employment and on the temporary employment plan that the government is initiating.  
At the height of the black market trade between Gaza and Egypt there were thought to be more than 1,000 tunnels employing around 7,000 people – providing Hamas with an income from taxes and permits of millions of dollars a month, estimated at 40% of the government's revenue, according to a July report in the Guardian.