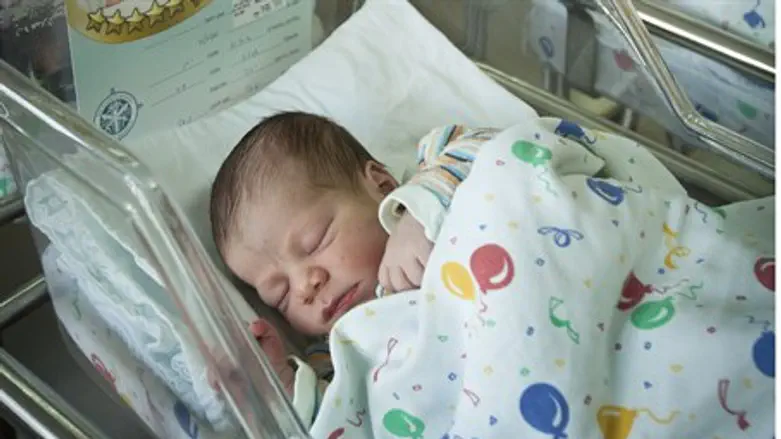 Illustration: Newborn
Flash 90
The Ministerial Committee for Legislation decided Sunday to give the Coalition's support to a bill submitted by MK Tamar Zandberg (Meretz), granting fathers eight days of paternity leave when a child is born.  
The bill was first submitted by Bayit Yehudi (Jewish Home) Minister Uri Ariel (who was a Knesset member for the National Union at the time) in the18th Knesset and passed in the first reading. Now it has been resubmitted by MK Zandberg following understandings reached with the Ministry of Economics and Ministry of Finance, with support from both Coalition and Opposition.
The bill grants fathers a leave from work that will be made up of three days of paid leave and five days of sick leave, at the employer's expense. It was co-signed by members of Meretz, Bayit Yehudi and other factions.
"Israel is an advanced country when it comes to the rights of women in pregnancy and birth," said MK Zandberg, "but in the matter of father's paternity leave we are behind. Parenting is a right common to both parents and is not just the mother's mission. This bill will make it possible for fathers to assist and help, and especially to begin the relationship with their child. In the entire western world, the model of egalitarian parenting is encouraged, and the government's support of the bill is a first step in the direction of changing the perception of parenting in the world of Israeli employment."
Minister Ariel said that this is "an important law that helps thousands of couples, and makes it possible for fathers to help their wives in the important moments of their lives together, when the family unit grows. The numerous requests from many couples attest to the law's importance. I regret not having succeeded in passing the law in the previous Knesset and will be glad to do everything in order to help and advance the bill quickly along with MK Zandberg."

Aryeh, a recent immigrant from Britain, told Arutz Sheva: "I think this is a really positive development. A few months after making Aliyah my wife gave birth, and I was shocked to find that no such concept as paternity leave exists in Israel. Particularly for olim or others without family around it is really a necessity, not a luxury, for the father to be around to help just for a few days.
"In most other developed countries it is understood that paternity leave is positive for both employees and employers alike. The benefit to employees is obvious, but employers also gain insofar as small but important gestures like this are crucial for maintaining morale and a healthy, happy workforce," he said.