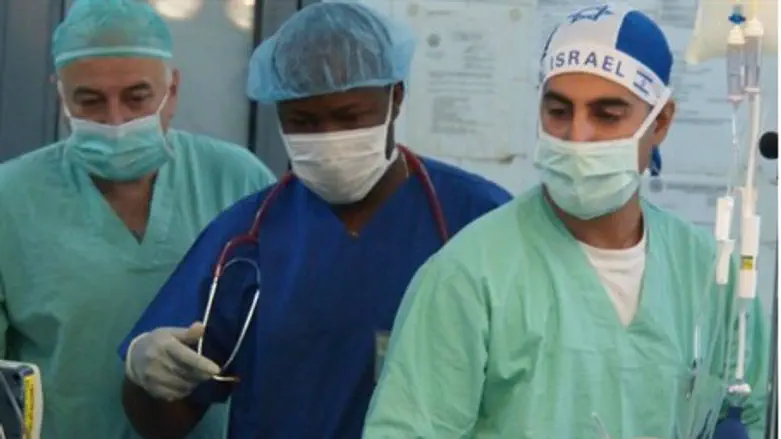 Joint team performs surgery in Tanzania
Save a Child's Heart
The South-Eastern African state of Tanzania now has its first pediatric heart surgeon, after Dr Godwin Godfrey returned home following five years of training in Israel.

The Israel based humanitarian project Save a Child's Heart (SACH), organized Dr Godwin's training in a landmark achievement that also saw it train a complete surgical team from a foreign state for the first time.
Since being established in 1995, SACH has trained doctors and nurses from all over the world and brought over 3,000 children to Israel from countries in Africa, South America, Europe, Asia, and throughout the Middle East, including the Palestinian Authority (PA), for life saving surgery at Holon's Wolfson Medical Center.

Speaking to Arutz Sheva, Randy Weiss from Save A Child's Heart said:

"Although SACH has previously trained doctors and surgeons from countries such as China, Ethiopia, Romania, Iraq and Nepal and also the PA, this is the first time the project has trained an entire cardiology team, including an anesthetist and cardiology nurses, meaning the they can perform lifesaving operations unassisted for the first time."
An Israeli team from Holon accompanied the Tanzanian team for a ten day trip to the city of Mwanza in the South East African state, in which  they will perform operations together, giving the local team back up until they gain full confidence to operate alone.
"It's an incredible accomplishment both for the Tanzanian doctors who are returning and for the Israeli team," Weiss said.

She added the Tanzanian team had created "very close ties" with the Israeli medical teams they had worked with, and said that Dr. Godwin had learnt to speak Hebrew fluently while he completed his surgical training in Holon.

Weiss said the joint team had already completed six surgeries in first two days of the trip – which started Tuesday – with three more already completed Thursday. A blog set up to report from the mission said the first days' operations hadn't been without incident in the developing country, as two power cuts interrupted the first operation, causing the breathing apparatus to briefly stop working on one occasion.
"It's hard to say how this will affect the greater image of Israel in Tanzania," Weiss said, although he emphasized that "the two teams had a great relationship, and received an extremely warm welcome from the head of the Medical Centre in Tanzania," adding that the Tanzanians were "incredibly grateful for the training they had received."