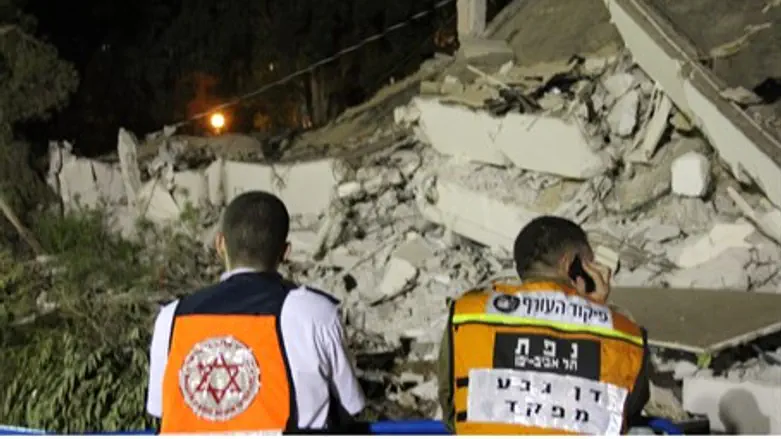 Emergency services training exercise
Magen David Adom
Home Front Minister MK Gilad Erdan (Likud) told the Knesset Wednesday that the threat of a major earthquake required all parties in Israel to remain ready for every eventuality.
Erdan said that a major earthquake could result in up to 7,000 Israelis losing their lives, with tens of thousands wounded, and as many as 200,000 requiring some kind of assistance.

Following six earthquakes in the last week in the north, he said the ministry was aware of the threats to the public and had already planned many training exercises to simulate disaster scenarios, as well as giving courses and distributing information to public institutions.
He added that in two weeks' time, Ben-Gurion airport and the major sea port of Ashdod would take part in an exercise testing their ability to receive large quantities of international assistance the country would need in the event of a major natural disaster.

Moving on to the issue of housing, the minister said that although many public buildings had been strengthened to prevent collapse in the event of a powerful earthquake, "many more buildings needed attention." He also said that he had met with the prime minister to discuss the issue and had asked the finance ministry to increase incentives for contractors to ensure more buildings were re-enforced.

Erdan said a public information campaign on the subject had been stepped up a few days ago and that particular attention had been made to make sure all of the country's emergency services have access to satellite phones, to ensure they could coordinate activities in event of a major disaster knocking out the usual means of communication.

On Monday, two earthquakes, one under Lake Kinneret and another in the area of Meron, brought the tally of quakes in the last week up to six. No injuries or damage were reported.
Although anxiety levels have been raised of late, Dr. Efraim Laor, a former chairman of the Inter-ministerial Committee on Dealing with Earthquakes calmed fears, telling Arutz Sheva earlier Wednesday that the minor quakes were not a "promo" for an approaching larger quake.