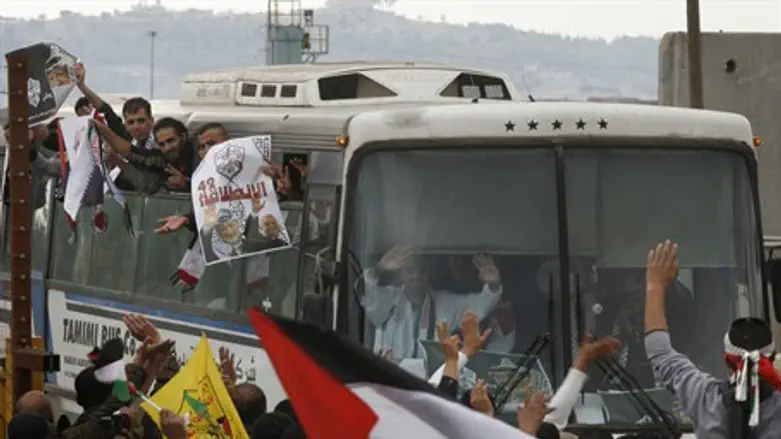 Previous terrorist prisoner release, 2007
Flash 90
Israeli security officials are very concerned over the next wave of terrorists that are to be released. A report in Yediot Achronot Monday said that officials were worried because the results of the last wave of terrorists had increased the danger of terrorism in Israel.
Several months ago, Israel agreed to release 104 terrorists, most of whom had been in prison for many years – decades, in some cases – for having plotted and participated in the murders of Israelis. The terrorists were released by Israel as a "gesture" to encourage the Palestinian Authority to agree to reopen negotiations with Israel.
The terrorists were to be released in three groups, with the first group of 26 released in August. In the next round, 32 terrorists are to be released, with the releases taking place in the coming days. The government has not yet approved a list of terrorists to be released.
But recent terrorist releases bode ill for the new round. One of the main terrorist leaders in Gaza, for example, is Ayman Sharuna, who in 2002 was sentenced to 38 years in prison for a bombing attack in Beersheva, in which 18 people were injured. Sharuna was released in 2011 as one of some one thousand terrorists released in exchange for kinapped IDF soldier Gilad Shalit.
He was rearrested in January 2012 for parole violations, and re-released last March, after promising not to involve himself in terror – a promise he promptly broke upon returning to Gaza.
Israeli security officials have been deeply embarrassed by the Sharuna affair, but he is only one of the recently released terrorists who have returned to their craft. Sharuna heads the military wing of Hamas' Judea and Samaria terror unit, but in truth all members of that gang are former Israeli terror prisoners, and a number of them were released in the Shalit deal.
As the terrorists already released return to terror activities, they strengthen the infrastructure that newly released terrorists will be able to take advantage of, officials fear – and more are increasingly speaking out against further terrorist releases.