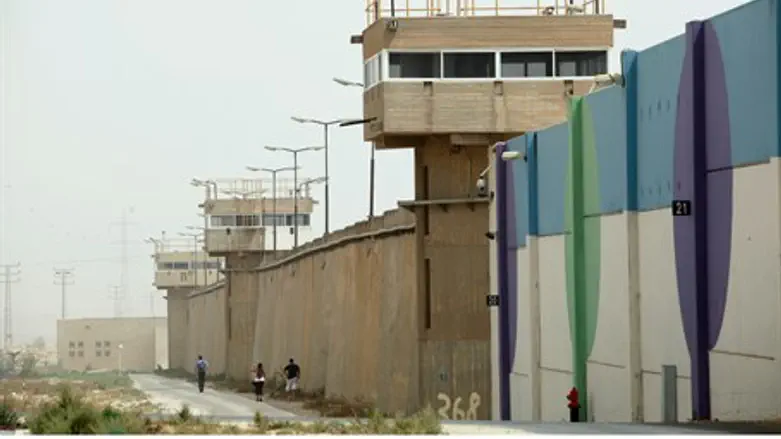 Illustration: Prison
Flash90
Although prisoners in Israeli jails are eligible to vote for the Knesset, that right does not extend to local elections. Now, in anticipation for tomorrow's local elections across the country, two prisoners have filed a petition with the High Court to change that.
Speaking to Arutz Sheva, attorney Hava Klein, who is representing the prisoners, said that the regulation was "a major failure of the state," and a denial of the democratic rights of Israeli citizens.
The rule applies not only to prisoners who have already been sentenced, but also to individuals who have been arrested and are in police custody on election day. Basically, the rule applies to anyone in prison, pre-trial detention, or being held by police for the initial 48 hours police are allowed to hold detainees before releasing them or getting a court order to keep them in prison, Klein said. The rule also applies to individuals who are set to be released even one day after the elections.
Klein said that the rule was anti-democratic in a most basic manner, because local elections are often very tight, and a few votes one way or the other could have great influence.
In their petition, the prisoners drew parallels between their situation and that of IDF soldiers, who are able to vote if they are on duty. The army is obligated to ensure that they have an opportunity to vote, and that same rule should apply to prisoners, the petition says.
As far as why no one has bothered to attempt to change this situation – which has been extant since the establishment of the state – until now, Klein said that she and many others involved in the legal system were unaware of the situation. "I couldn't believe that this had gone on for so long, and decided to take up the cause for this most basic of democratic rights," she said.
The court said that it would render its decision in time for the prisoners to vote. If the court does decide to allow voting to proceed, the results of elections in some localities may not be clear for several days, as the votes of prisoners are organized and counted. Currently there is no mechanism to enable local voting for prisoners, and the Prisons Service has not commented on when it could be ready to establish one.