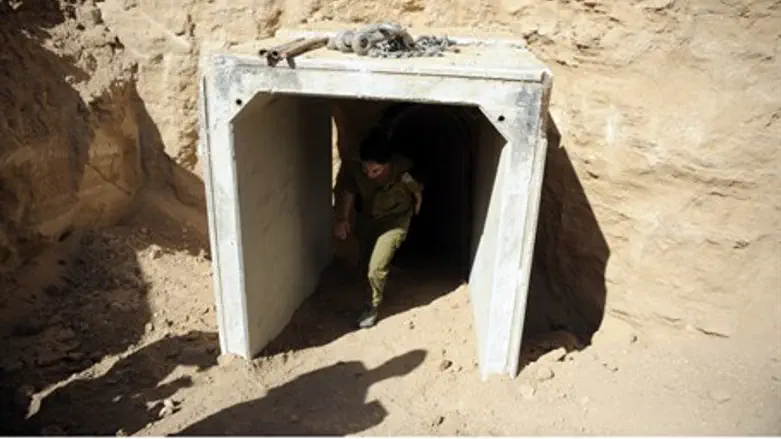 Entrance of previous tunnel uncovered by IDF
Flash 90
Daily newspaper Yediot Aharonot wrote Friday that Israel had known for over a year about the terror tunnel that Hamas was digging into its territory, but let Hamas leaders continue to pour resources into it.
"Sometimes, as part of the war of minds, [Israel] lets them invest money, wrack their brains, waste human resources, and only towards the end of the digging, does it hold up a stop sign," the paper's defence correspondent Alex Fishman wrote.
Residents of Gaza said they received phone calls on Friday from the Israeli army accusing the Islamist movement of failing to provide for civilians.
"To the residents of the Gaza Strip, the Israeli army warns you against obeying the orders of the terrorist Hamas or having any contact with it," the recipient of one such pre-recorded message quoted it to AFP as saying.
"Know that Hamas is spending millions of dollars on tunnels used for hostile and terrorist acts against the state of Israel," it said. "This money should have gone to infrastructure, education and health projects."
Hamas's interior ministry said that dozens of Gazans received the calls. AFP said that the Israeli military did not immediately respond to a request for comment. 
The IDF said last week that the tunnel was found by troops after farmers reported hearing unusual underground noises. Terrorists planned to use it to attack the kindergarten at Kibbutz Ein Hashlosha, the IDF said.