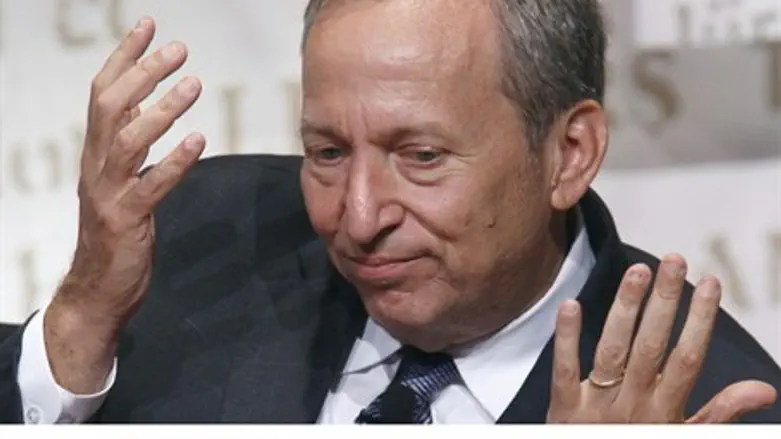 Larry Summers
Reuters
Prime Minister Binyamin Netanyahu "apparently" offered the position of Governor of Israel Bank to Larry Summers, who was US Secretary of Treasury under President Bill Clinton, reported Channel 2 Friday. Summers turned down the report, said the channel.
Summers had been the favored candidate to replace Ben Bernanke as Chairman of the US Federal Reserve, but informed US President Barak Obama that he does not want the job, after it became apparent that his candidacy would likely not be approved by the Senate.
The identity of the new Israel Bank Governor is to be announced on Sunday. More than 100 days have passed since the last Governor, Prof. Stanley Fischer, ended his term in office, and a replacement has not yet been named.
Three people are currently known to be in the running for the position: former Finance Ministry Director Victor Medina, former Deputy Governor of the Bank of Israel, Prof. Tzvi Eckstein, and Prof. Mario Blecher, who served in the past as the Governor of the Bank of Argentina. 
Finance Minister Yair Lapid and Netanyahu have not been able to reach agreement on the identity of the new governor. Prof. Eckstein is said to be the candidate favored by Lapid. However, there are also reports that both Netanyahu and Lapid are not particularly happy with any of the three candidates.
Acting Bank Governor Karnit Flug, whom Netanyahu did not want to appoint as Governor, may be in the running after all, according to financial website The Marker. Netanyahu met Flug over the weekend and this may be a sign that he is softening his opposition to her candidacy. While women's groups have alleged that Netanyahu opposes Flug because of her gender, most experts agree that this is not the reason. There has been speculation that Flug's open criticism of Netanyahu's financial policy in the past is what caused him to distrust her.
Summers' assessment that he would not pass muster in the Senate is also related to women's issues. He is haunted by a statement he made when he was Harvard University President, regarding the differences in men and women's range of abilities in math and sciences.